This post contains affiliate links, we'll earn compensation if you make a purchase using them at no additional cost to you 😊
Choosing the best electric scooter for teens should be done carefully because many teens are new to e-scooters. Users must consider advanced parameters like ergonomic controls, safety features, and basic features like top speed, range, IP rating, and battery.
For example, if your teen kid rides an e-scooter for the first time and faces issues with the e-scooter while riding in the middle of the ride. No one would like that to happen to their kid, right? It was just one example that might happen.
Hence, to help you choose the best suitable electric scooter for your teen, I reviewed 50+ high-ranking e-scooters with the right measures and shortlisted six top-performing e-scooters.
Moreover, this list includes some options suitable for teens and adults, both if your kid grows up too fast.
So, let's get started.
Top 6 Electric Scooters For Teens (Quick Comparison)
key parameters like the tested top speed, maximum range, motor power, weight capacity of the rider, and waterproof IP ratings.
These parameters will help you understand which electric scooter suits best to your electric scooter needs. So, let's take a quick look.
| | | | | | | |
| --- | --- | --- | --- | --- | --- | --- |
| Sr. No. | Electric Scooters | Top Speed | Max. Range | Motor | Weight Capacity | Waterproof IP Rating |
| 1 | Turboant M10 Lite | 16 Mph | 15.5 Miles | 36V/ 350W | 220 lbs | IP54 |
| 2 | Turboant X7 Max | 20 Mph | 32 miles | 36V/ 350W | 275 lbs | IPX4 |
| 3 | Varla Wasp | 16 Mph | 19 Miles | 36V/ 350W | 265 lbs | IP54 |
| 4 | Segway Ninebot Max G30P | 40.4 Mph | 18.6 Miles | 36V/ 350W | 220 lbs | IPX5 |
| 5 | Horizon 10.4 V2 | 23 Mph | 23 Miles | 48V/ 500W | 265 lbs | None |
| 6 | Razor E300S | 15 Mph | 10 Miles | 250W | 220 lbs | None |
1. Turboant M10 Lite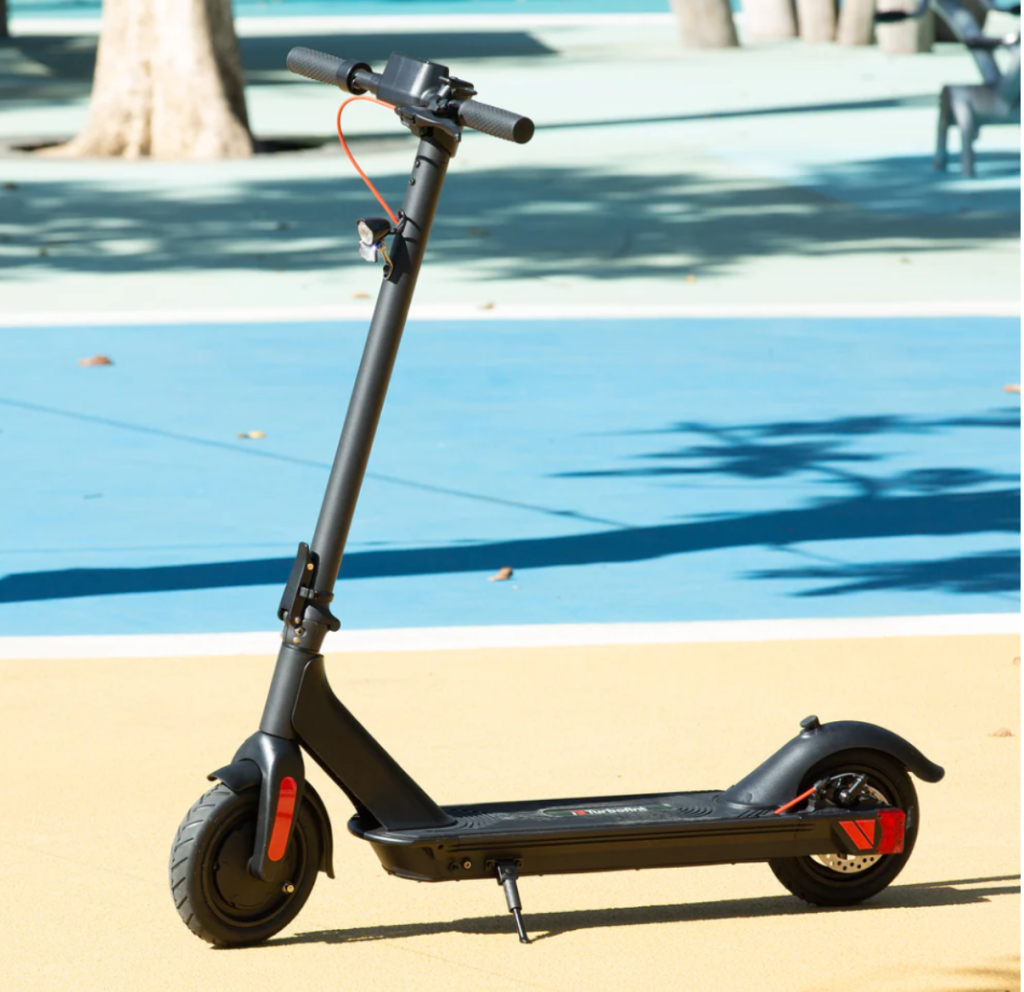 Technical Specifications:
Top Speed: 16 Mph
Maximum Range: 15.5 Miles
Motor: 36V 350W
Weight Capacity: 220 lbs
Waterproof IP Rating: IP54
Pros:
Value for money.
Impressive riding quality.
Dual-braking system.
USB port for charging.
Quick folding.
Cons:
Shorter Deck.
The cruise control kicks in untold.
Price: $329.98
The first one to rank on our list with its flamboyant performance, the Turboant M10 Lite has a special place in the market.
It is a bit slower than the predecessor M10, so it is a better option for teenagers as it is suitable for their safety. Still, the scooter still comes under the fastest scooter category with a top speed of 16 Mph.
Also, if you love riding fast, you can rely on the calibrated electronic rear disc and front brake to stop from 15 Mph in just 2.9 meters.
Further, with proper cooperation of the wide handlebars, ergonomic control, and a deck with a perfect grip, the M10 Lite is the best within-budget scooter. On only budget, but when you look for a portable and lightweight scooter, it doesn't disappoint.
Plus, the ability to ride in any weather conditions with the IP rating of IP54, and if you want to fold your scooter, carry it with a 3-step simple folding mechanism. In addition, a few other small facilities include a phone charging port, 3W headlight, and dual taillights.
Ultimately, your search for the best-performing electric scooter for teenagers with the Turboant M10 Lite.
2. Turboant X7 Max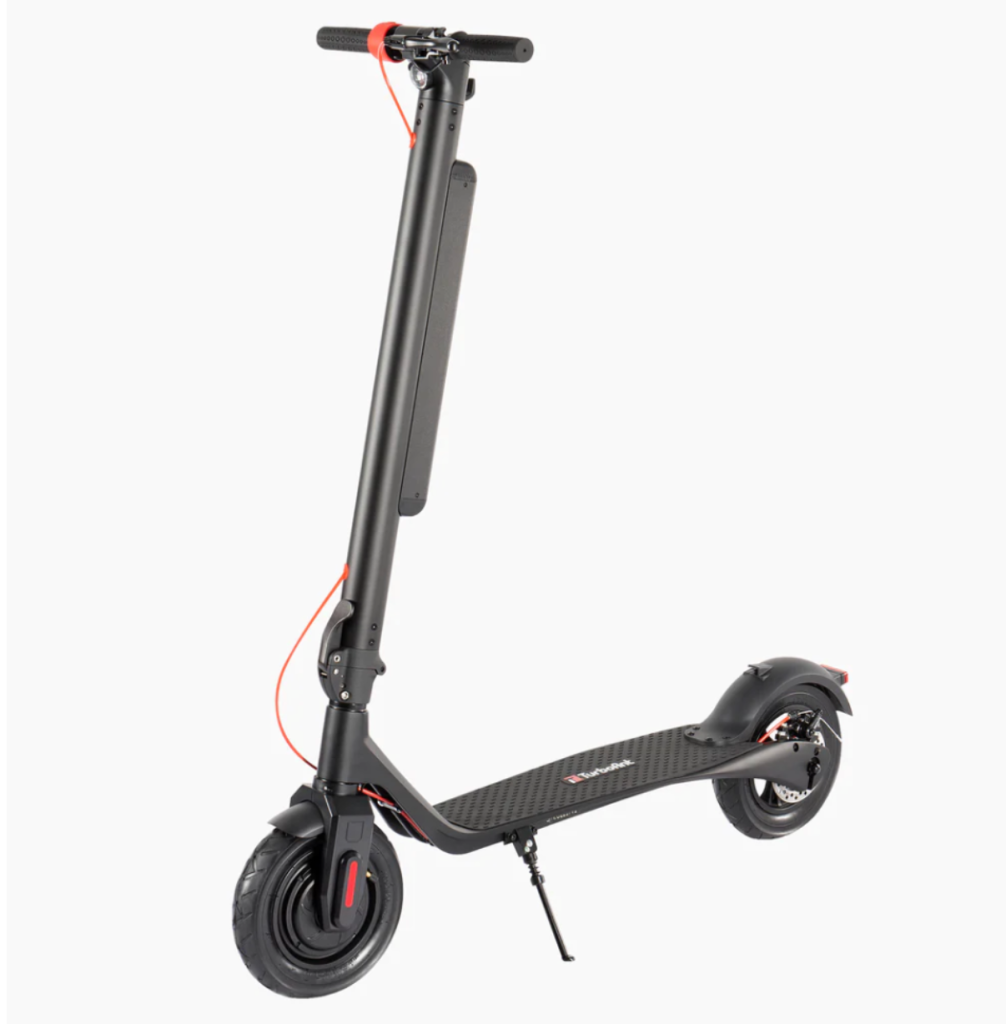 Technical Specifications:
Top Speed: 20 Mph
Maximum Range: 32 miles
Motor: 36V 350W
Weight Capacity: 275 lbs
Waterproof IP Rating: IPX4
Pros:
Detachable battery with a key lock.
Value for money.
Large and fat tires.
Sleek and stylish frame.
Best suited for tall riders.
Supportive to heavy riders.
Cons:
Less bright headlight in the dark.
Price: $479.98
The multiple-award winner electric scooter, The Turboant X7 Max, best suits beginners like teenagers. The X7 Max is made with many significant improvements and perfectly executed changes.
Regarding the cost, the scooter is affordable and practical and is a feature-packed machine with a detachable battery.
However, I recommend this scooter for teenagers because of the scooter's extra safety features, like quick brakes, thick sidewalls, and wide handlebars for better stability.
Moreover, you can extend the battery power with a second battery and can achieve a maximum range of up to 64 miles, triple the original range of 32 Miles.
Even though you don't add an extra battery, the original mile range is slightly longer as the updated drivetrain hardware and software control the power flow.
With a revamped interface, an efficient and smooth mechanism, and a tall stem suitable for riders of all heights. Also, the key lock added to the detachable battery provides extra security.
Overall, the scooter offers a complete package with the best brakes, frame material, and components needed for a superior electric scooter.
3. Varla Wasp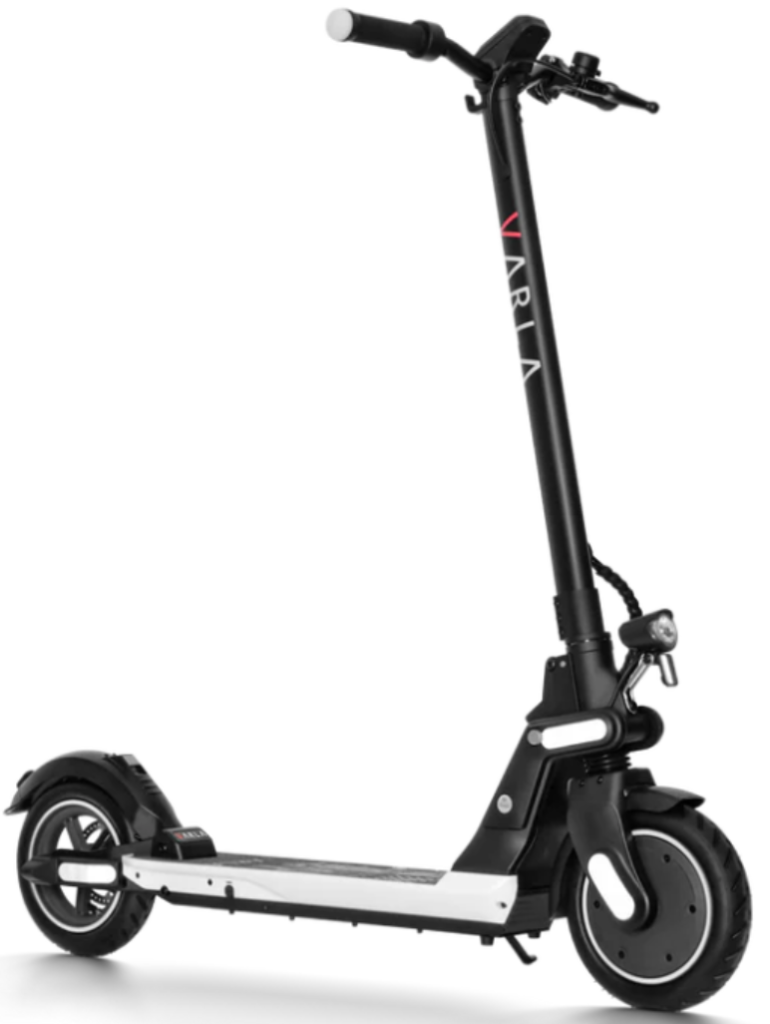 Technical Specifications:
Top Speed: 16 Mph
Maximum Range: 19 Miles
Motor: 36V 350W
Weight Capacity: 265 lbs
Waterproof IP Rating: IP54
Pros:
Brakes with greater stopping power.
Easy carrying of young riders with stability.
Enough 15 NM torque to climb on inclinations.
Smooth acceleration with the 16A controller.
Smart battery management system.
Cons:
The range and top speed could've been better.
Price: $599
Riders of any age who like minimalistic designs with sheathed cables and well-covered cockpits. It is one of the few scooters with a dual-braking system, making the scooter even safer for your teenage kids.
The scooter's ability to charge fully in 4 to 5 hours is good enough; meanwhile, you finish your chores before leaving home with the scooter.
Furthermore, for riders living on the hillside or frequently riding bumpy terrain, the Wasp is for you and offers you rear spring shock absorbers for better suspension and air-filled tires of 8.5 inches.
A wide deck, seat attachment ability, and seamless folding mechanism are ideal for all riders.
Hence, riders choosing to attach a seat can keep both feet comfortable on the wide deck, and riders with no garage space can fold the scooter and store it in the house.
4. Segway Ninebot Max G30P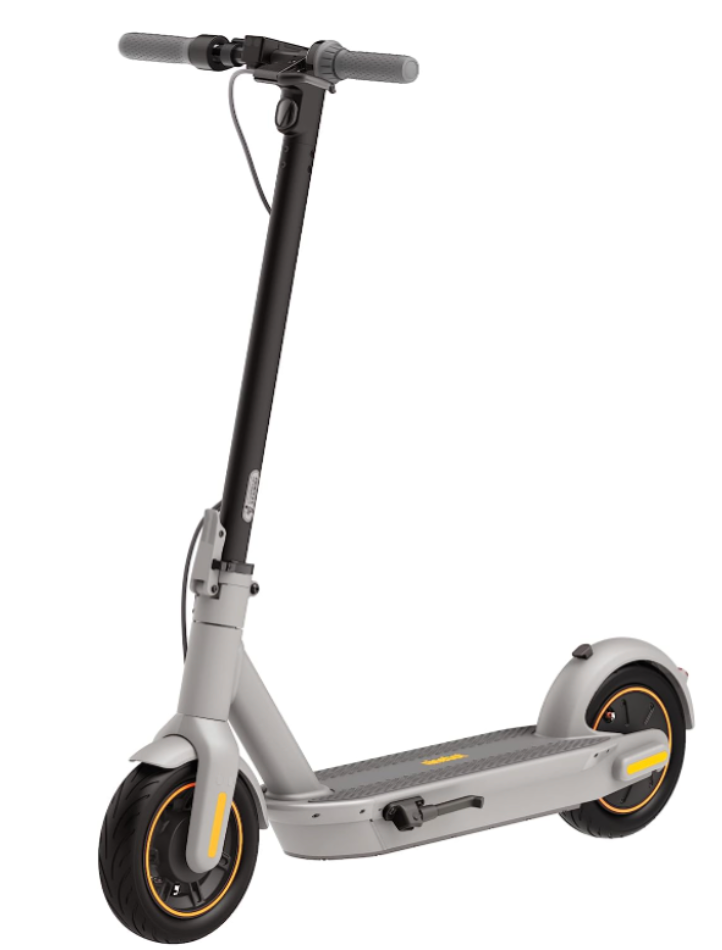 Technical Specifications:
Top Speed: 40.4 Mph
Maximum Range: 18.6 Miles
Motor: 36V 350W
Weight Capacity: 220 lbs
Waterproof IP Rating: IPX5
Pros:
Protection in wet conditions.
Long-lasting battery.
Self-sealing and puncture-resistant tubeless tires.
Smart battery management system.
Ability to crush tough terrains.
Cons:
Less-bright inbuilt lights.
Price: $626.98
The Segway Ninebot Max G30P is built with superb quality and has been praised by many EV experts worldwide.
It might not be affordable, but the set of features and technical specifications of this scooter make it stand out from its rivals. Plus, it will last a long time for your teenager to use it for years.
Lightweight adults and teenagers can use it as it suits perfectly for such riders. In addition, you can ride the scooter in 3 modes- Sport, Standard, and Energy Saving to select as per your kid's riding skills.
Also, it is one of those few e-scooters that offer 40.1 mph with a mile range of 18.6 Miles on a one-time charge.
5. Horizon 10.4 V2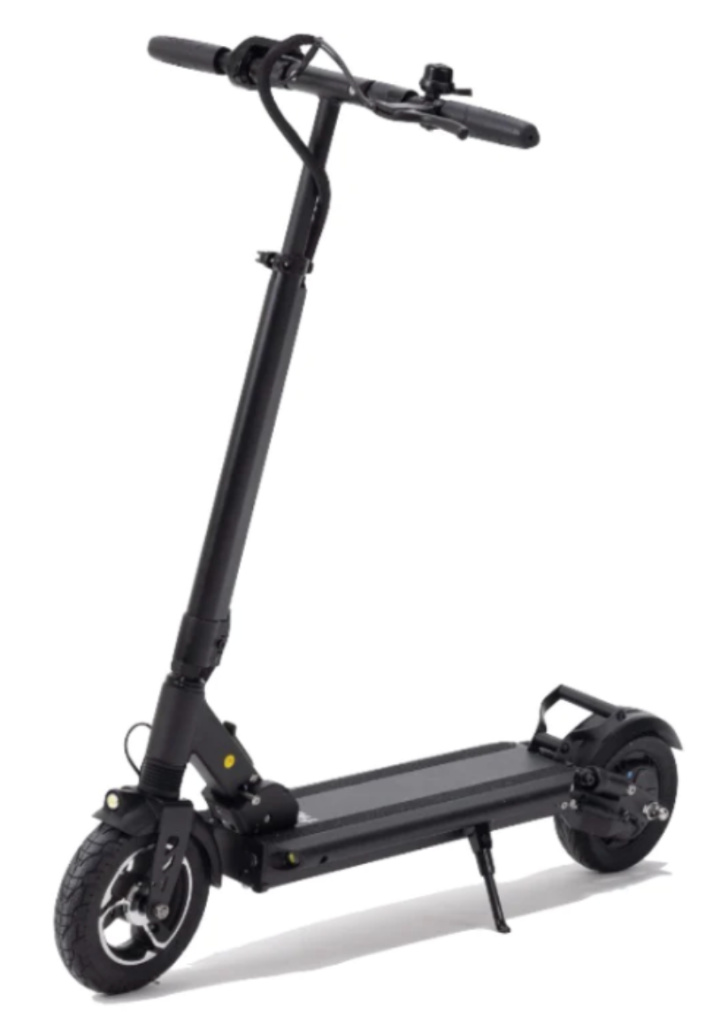 Technical Specifications:
Top Speed: 23 Mph
Maximum Range: 23 Miles
Motor: 48V 500W
Weight Capacity: 265 lbs
Waterproof IP Rating: None
Pros:
Full suspension despite being cheaper.
Quick acceleration.
Comparatively Low maintenance.
Smooth Ergonomic Controls.
Collapsible Handlebars offer portability.
Cons:
No water-resistant IP ratings.
Less-calibrated brakes.
Less bright headlight.
Price: $699
A good-looking e-scooter sporting a dual-suspension, compact folded dimensions, a raging acceleration power, and smooth ergonomic controls was bound to make it to this list of best electric scooters for teenagers.
The Horizon V2 has become one of the best-selling e-scooters in the industry. The reason is the portability, power, and durability for the scooter's success, along with other areas.
The scooter's rear-mounted motor of 48V 500W makes it faster with the help of the 20A controller and throttle to dash from 0 mph to 15 mph in 4.5 seconds.
The ride quality especially sets the scooter apart from its competitor models and always keeps the rider in control.
Additionally, the dual suspension releases dual shock in the front and rear parts of the scooter and a perfectly balanced frame for handling the chassis and steering better.
6. Razor E300S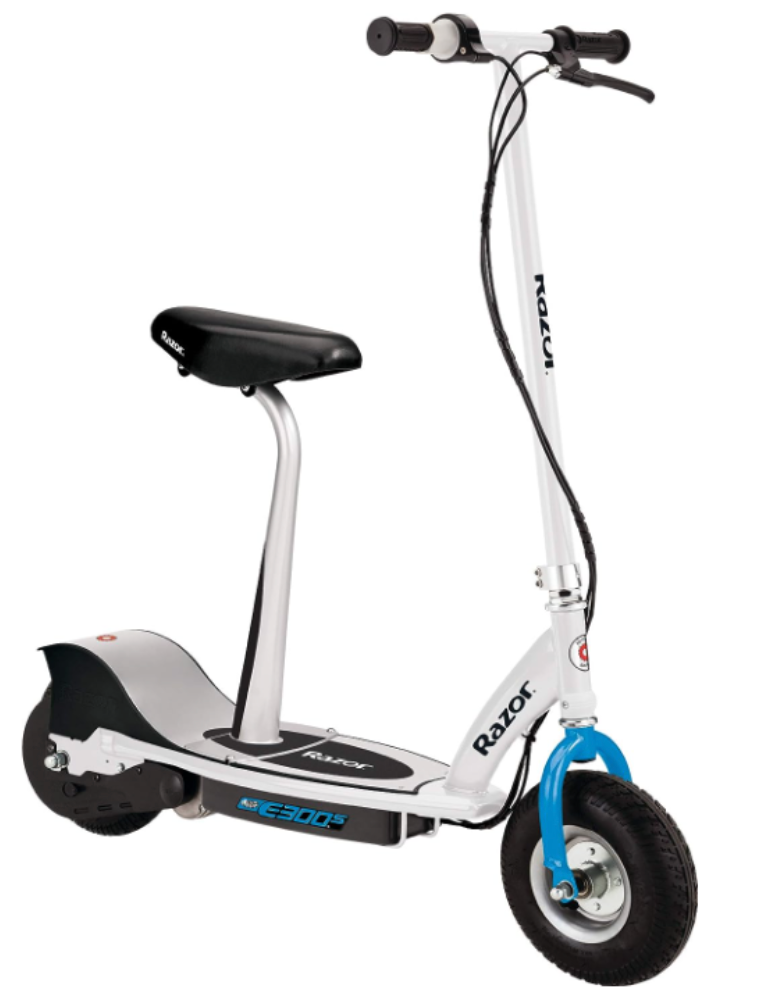 Technical Specifications:
Top Speed: 15 Mph
Maximum Range: 10 Miles
Motor: 250W
Weight Capacity: 220 lbs
Waterproof IP Rating: None
Pros:
Made with trusted frame manufacturing material.
Durable steel avoids damage.
Great shock absorptions and higher ground clearance with the 10-inch tire set.
Easy to assemble.
Cons:
43 lbs scooter weight might be a little heavy for teen riders.
Price: $299.99
The Razor E500S is slightly different from other e-scooters because the scooter flaunts a small but helpful seat over the deck. Also, riders can remove the seat if they don't need it and prefer standing while riding.
However, this e-scooter is not for long-distance travel but can carry your teenage kid from one point to another, having a shorter range.
The Razoe E500S is built with a steel frame and other component materials made of the best manufacturing material in the industry. It makes the scooter durable and unbreakable, avoiding any accidents happening to your child.
Plus, with a wider deck of 8 inches wide and 26.2 inches long, it is also suitable for adults.
Related Read:
Wrapping Up! Best Electric Scooter For Teens In 2023:
Buying the best electric scooter for teenagers to expose them to outdoor sports and activities is a great idea. Plus, it develops a hobby for them to be active outside the house.
However, with the list of top-performing e-scooter options given above, the tricky job of finding the right one for your teenage kid has been sorted.
According to components and ergonomic controls, all the above-mentioned e-scooters are best suited for a teenager. Still, the Turboant M10 Lite was the highlight of my research with its safety measuring features.
Nonetheless, you can choose the one that suits your needs and requirements best.
FAQs
Can a 13-year-old kid ride an electric scooter in california?
Specifically, in California, riders below 16 years are not allowed to ride an electric scooter, and riders also require a learner's permit to use an e-scooter.
What is the best right age to use an electric scooter?
Generally, most states in the USA need riders to be at 16-years-old to ride an electric scooter. Some states even have additional rules and regulations to allow kids above 13 years to ride an e-scooter.
Which electric scooter is the best for a teenager?
We chose Turboant M10 Lite as our first choice for an electric scooter for teenagers because its feature fulfills all the requirements of a teenager, including their safety.