Hybrid bikes are great for commuting in cities, running errands around town, or just for fun. So, Imagine if you could get the best hybrid bikes under 300 USD that will do just the job for you.
We have brought you the best hybrid bikes under $300 for 2023, which will be discussed in this article.
Hence, let's get into the details without wasting any more time.
Top 9 Hybrid Bikes Under 300: In A Nutshell (2023)
If you are here to glance at the best hybrid bikes under 300 USD, we have given a chart below, which will provide you with some important details.
| | | | |
| --- | --- | --- | --- |
| Sr. No. | Best Hybrid Bikes Under 300 | Price | Ratings |
| 1. | Schwinn GTX 1.0 Hybrid Bike | $299.99 | 5/5 |
| 2. | Schwinn Wayferer Hybrid Bike | $360.73 | 5/5 |
| 3. | Kent Front Runner | $188 | 5/5 |
| 4. | Kent Women's International Springdale Hybrid Bike | $299.99 | 5/5 |
| 5. | Hiland Hybrid Bike | $399.99 | 4.4/5 |
| 6. | Sixthreezero EVRYjourney Hybrid Bikes | $498 | 4.3/5 |
| 7. | Vilano Hybrid Bike | $399 | 4/5 |
| 8. | Kent Women's Avondale SURESTOP | $210.28 | 4/5 |
| 9. | Giordana Hybrid-Bicycle Brava | $209.99 | 4/5 |
Finding affordable hybrid bikes with outstanding performance is not always simple. Hence, I have curated this list to help you make the best decision for yourself as quickly as possible.
1. Schwinn GTX 1.0 Hybrid Bike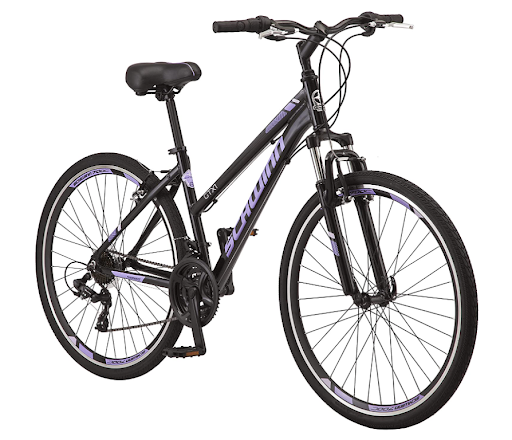 A lightweight aluminum frame and front and rear fenders on the Schwinn Discover hybrid bike ensure a comfortable and hygienic ride.
For a smoother and safer ride, the Schwinn front-end suspension forks and Promax aluminum linear-pull brakes efficiently absorb the shock and offer sufficient stopping power.
This Schwinn model has 28-inch or 700C wheels, which offer adaptability on various surfaces. Take on steep climbs and rugged terrain with ease and safety thanks to the 21-speed drivetrain and Shimano rear derailleur.
The swept-back handlebars and padded grips on your bike keep you upright and firmly in control. You may use the kickstand and cargo rack in the back to support the vehicle as you shop about town.
Although variations of the Schwinn Discover are available for both men and women, particularly short riders have complained that the bike does not suit them well enough without major changes.
Price: $299.99
2. Schwinn Wayfarer Hybrid Bike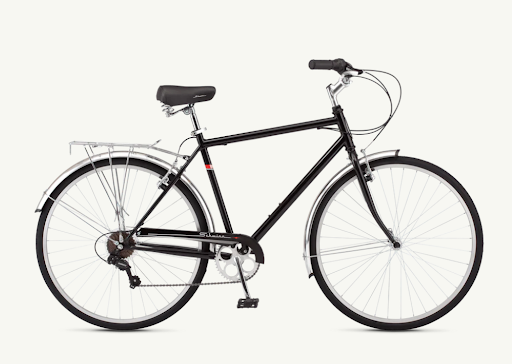 The Schwinn Wayfarer boasts a durable metal frame and 700C aluminum rims to ride various surfaces smoothly.
Mounting and dismounting your bicycle is simple thanks to the 16-inch step-over and 18-inch step-through. This feature is extremely useful if you drive in stop-and-go traffic with frequent mounts and dismounts.
The bike's 7-speed transmission makes changing gears simple, and its aluminum brakes guarantee controlled stopping.
The SRAM twist shifters and 7-gear derailleur make climbing hills easy.
As you hold onto the straight handlebar of the bike, you will ride easily.
On any surface, the alloy linear-pull brakes offer superb stopping control.
Although riders weighing up to 250 pounds have tested the Schwinn Wayfarer, it is unknown if heavier riders will be able to use the bike.
You should choose the 26-inch model if you are between 5'2″ and 5'7″. Although, it is suggested that riders between 5'7″ and 6'2″ in height use the bigger model- 700C.
Price: $360.73
3. Kent Front Runner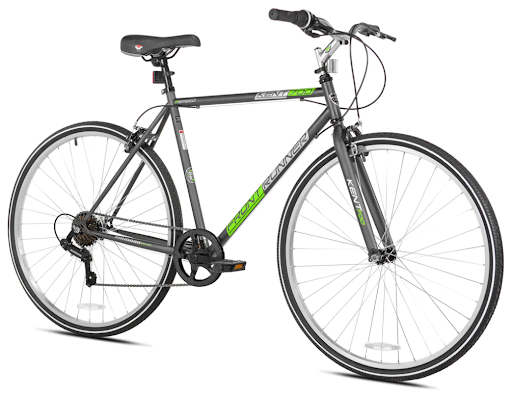 It featured an aluminum frame and was constructed in a stunning design that is uncommon in contemporary hybrid bikes.
This bike's frame is designed for comfort and is best suited for town riding. However, it can also travel off-road and across tough terrain if necessary.
Although the wheels are like a 700c road bike, they are significantly wider than you would anticipate seeing on a bike of this type, which places it in the hybrid category.
Along with having large rims, it also boasts 28c all-terrain puncture-resistant tires.
The gearing only has seven-speed modes and has been kept simple. This bike will work fine if you live in a mountainous area because it has a wide range of gears to assist.
If you use the front chainring for commuting, a guard is attached to prevent grime from getting on your clothing.
The bike has rim brakes that will stop you when necessary. This bike is for you if you desire a retro-styled ride with contemporary technology, this bike is for you.
Price: $188
4. Kent International Springdale Hybrid Bike (Women's)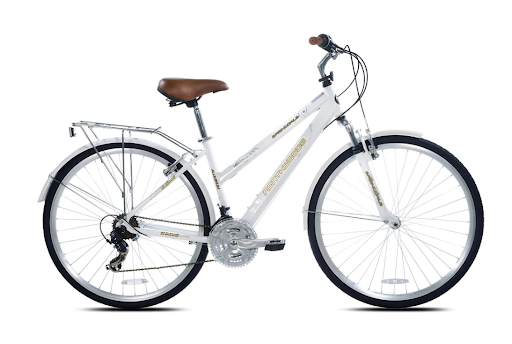 With the Kent International Springdale Hybrid bike, you get so much for a lower cost and such great value.
The aluminum frame is significantly lighter than its steel rivals. You will travel several miles in comfort thanks to its extremely comfy shape.
Plus, the wheels are 700c and feature 36 spokes per wheel, which makes them quite cool and ensures that you won't have to worry about hitting the occasional pothole.
They add extra comfort and help the bike float over difficult terrain when combined with bigger tires.
The bike will be ideal if you live in a mountainous city because the gearing, which is a Shimano 21-gear system, allows a fantastic range for the user. Also, for additional comfort, it also has a front suspension fork.
The bike's brakes, which are typical V-rim brakes, will function effectively.
Moreover, if you use the bike for commuting or in inclement weather, it also has fenders to keep the mud off.
Price: $299.99
5. Hiland Hybrid Bike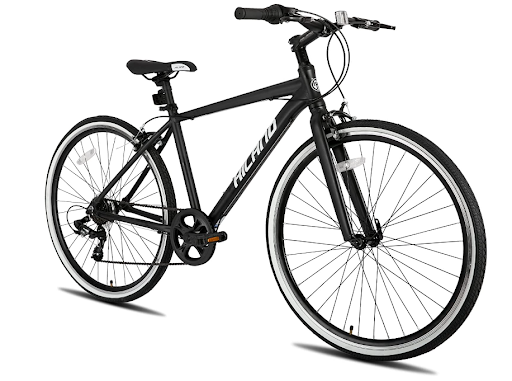 You receive a perfectly made, ever-lasting Aluminum alloy frame when you buy the Hiland bike.
I was astonished by the color choices on this bike and thought it was great that they managed to do such a wonderful job on a cheap hybrid.
It is now available in two styles: Blue-Grey and Black-and-White.
A further factor that pleased me was the high caliber of the bike's components, which are often reserved for models costing more than $500.
Furthermore, you will receive double-caliper brakes. They have, however, installed Seven Speed Shimano Shifters, which are pretty smooth to ride.
Also, this bike is 85% built and has 700C wheels. As a result, you'll be able to swiftly assemble the bike and make it ready to ride as soon as you get it.
Price: $399.99
6. Schwinn Discover Hybrid Bicycle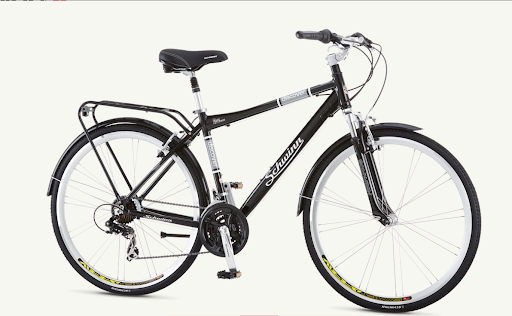 Among various hybrid bikes, people have preferred the Schwinn Discover Hybrid Bicycle.
You receive all top-quality parts and a very fashionable style with the Schwinn Discover bike, making it appealing to both men and women.
If you want to get a matching set of bikes for you and your partner, its design makes it a fantastic choice.
Moreover, there are a variety of frame sizes and color options, so you're sure to find a model you like.
This bike has comfy style bike seats and a swept-back handlebar that make riding quite comfortable.
Plus, the 28-inch wheels and suspension forks give you an optimal comfortable ride while navigating any terrain.
The addition of wheel fenders and a bike rack that enables the installation of a rear bike basket gives this bike more flair and practicality.
With its SRAM grip shifters and Shimano rear derailleur, this hybrid bike lets you go over any flat or uneven inclining terrains.
It also includes alloy linear-pull brakes with the ideal stopping power.
Price: $498
7. Vilano Hybrid Bike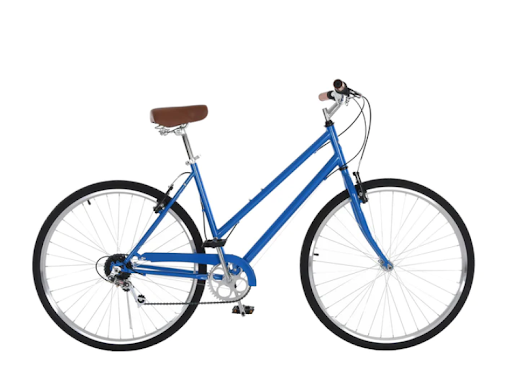 The Retro City Commuter Hybrid from Vilano is an excellent, inexpensive bike under $300 that is always a terrific purchase.
You receive a well-designed step-through hi-ten steel frame with this bicycle.
One of the greatest bikes for people between the heights of 5′ 5″ and 6′ is due to its design.
The bike also boasts an adjustable seat post and a plush leather suspension saddle.
It has a 7-speed twist grip shifter that makes it easy to pedal up and down modest hills in the city.
Additionally, snappy linear-pull breaks and 700C wheels are included.
Price: $399
8. Kent Women's Avondale SURESTOP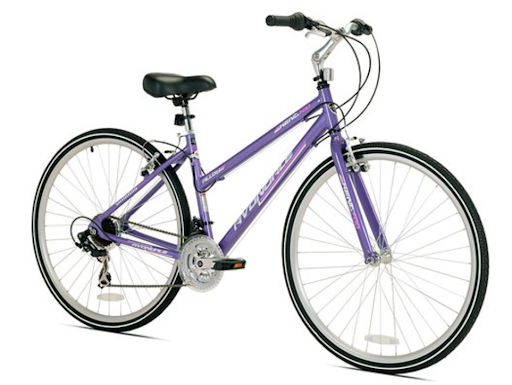 One of the few affordable hybrid bikes that may get you moving for even less than $160 is Kent's stylish Avondale SURESTOP.
Combined with 700c tires, a handcrafted, lightweight 6061 aluminum frame provides enjoyable, quick rides throughout the city without much effort. It also improves pedaling efficiency.
Combined with 700c tires, a handcrafted, lightweight 6061 aluminum frame provides enjoyable, quick rides throughout the city without much effort. It also improves pedaling efficiency.
Linear-pull alloy V brakes and the straightforward yet clever SURESTOP one-lever anti-lock braking system guarantee improved control and precise stopping in difficult riding situations.
The future-ready braking system further improves rider safety by essentially avoiding head-over-handlebar collisions and front-wheel sliding brought on by abrupt stops.
The Kent Avondale is one of the best women's bikes under $300 and has trustworthy componentry for high-performance, comfortable rides on many terrains.
Price: $210.28
9. Giordana Hybrid-Bicycles Brava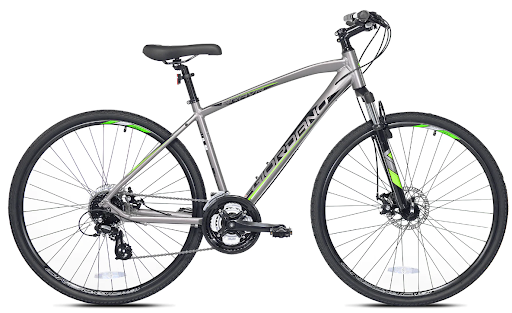 The Giordano Brava is a hybrid bike made with a higher-quality, affordably priced hybrid bike with great value.
It has an attractive aluminum frame with a comfort-oriented design.
Plus, it is built with an 80mm-traveling Crown Suspension Fork system that can easily pass through troubling terrain.
The 24-Speed Shimano Altus includes higher-quality bicycle derailleurs, including the Giordano Brava.
It was somewhat unexpected to find this feature on a hybrid bike that costs approximately $300 because it is typically only found on more expensive models.
The mechanical disc brake on this bike, which offers pleasant riding comfort and braking power, also employs 700C tires.
You receive more than what you paid for with this bike!
Additionally, it is really simple to put together. Therefore we strongly advise looking into it.
Price: $209.99
Related Read:
Final Verdict On Best Hybrid Bikes Under 300 (2023)
With the options we've provided, getting yourself the best hybrid bikes under $300 should be quite easy now.
You should still be aware that the costs of these affordable hybrid bikes fluctuate frequently, so we can't guarantee that they will always be under $300 when you check.
Having said that, we will make sure to update you with the updated price of the products we have shared with you.
Lastly, it all comes to you choosing a suitable hybrid bike for yourself and comfortably ENJOYING THE RIDE!
FAQs
How much money needs to be spent on a hybrid bicycle?
The sweet spot for most folks interested in a hybrid bike is in the $500–$1000 price range. These bikes are quite well-made, dependable, have high-quality parts, and are not overly hefty. Browse our selection of under $1,000 hybrid bikes for ideas.
Can hybrid Bikes ride for a long distance?
If you don't concern about traveling at top speed, hybrid bikes are great for long distances.
Which common problem arises with a hybrid bike?
Unfortunately, battery dehydration is a common problem that arises with most hybrid bikes.
Are hybrid bikes easier and faster to pedal than mountain bikes?
Hybrid bikes are usually faster and easier to pedal than normal mountain bikes.
Are hybrid bikes good for uphill riding?
Basically, hybrid bikes provide a wide gear range which makes it easier to do uphill riding.