This post contains affiliate links, we'll earn compensation if you make a purchase using them at no additional cost to you 😊
With the increasing craze over electric scooters, being curious about the types of electric scooters to choose from makes sense.
Moreover, who doesn't want to go on an electric scooter for grocery and coffee runs or stroll in the nearby market? Isn't it so fun?
However, with so many options, how do you determine which is best? It can be difficult to know where you should start your research.
Worry no more! In this article, I have rolled out the different types of electric scooters so that you can pick the suitable type for your needs. You will discover everything below, from kick and foldable scooters to off-road scooters.
So, what are you waiting for? Let's dive right in!
6 Types of Electric Scooters 2023: Which One is Right for You?
The types of electric scooters differ on the basis of their target customers, smart features, range, etc. Electric scooters are also made according to age groups, such as adults and kids.
We will see all the types of electric scooters are classified below:
1. Electric Kick Scooters
This type of electric scooter involves simple, lightweight, compact, and portable scooters. The electric kick scooter has a wide deck to stand on and a digital display attached handlebar in the front.
These kick scooters are made to be ridden on smoother and flat terrains, mostly in urban areas. It is designed to ride on tough terrains and overly bumpy roads.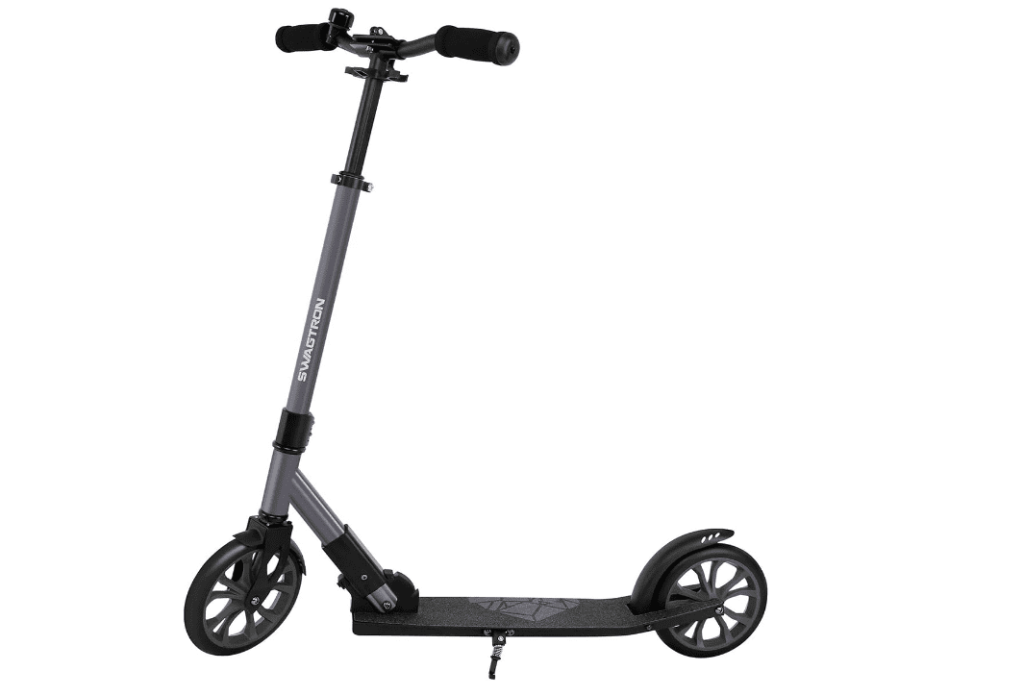 However, they are helpful if you need a commuter for daily tasks like grocery and coffee runs. It is a more practical option to get through city traffic.
2. Foldable Electric Scooter
As the name mentions, foldable electric scooters can be folded and carried around. This feature makes them even more portable.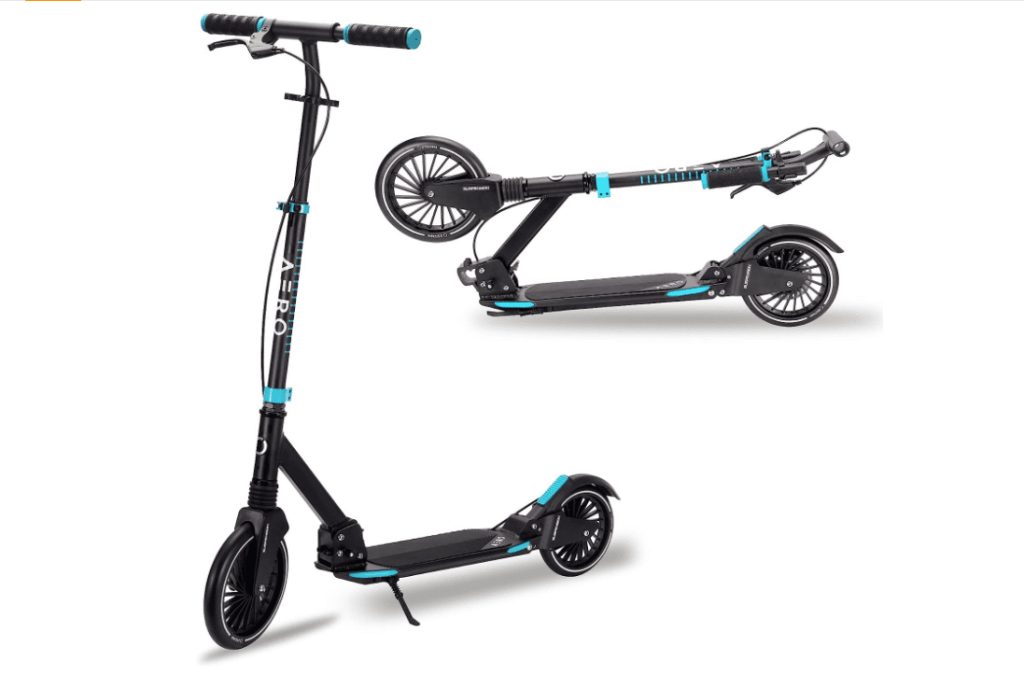 Plus, it allows you to keep them aside when not using them. They are also easy to use, lightweight, and compact, making them portable.
3. Moped Electric Scooter
These electric scooters work based on electric motors. The difference between an electric scooter and a moped electric scooter is that mopeds are more comfortable for two people to sit on.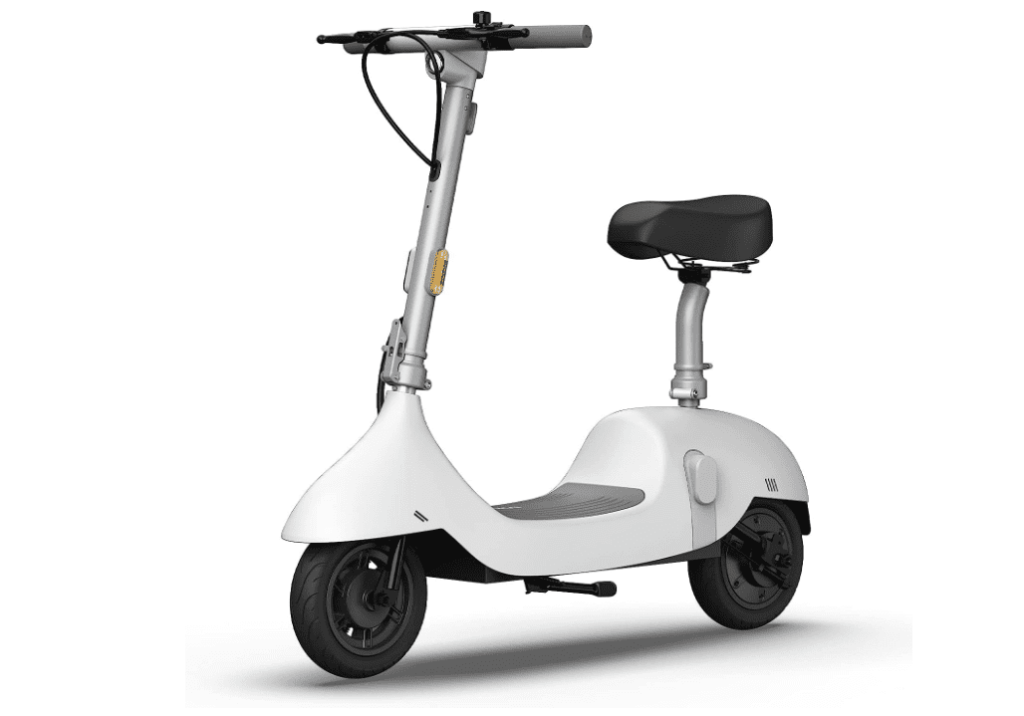 It is also built with more space to keep your items, such as a trunk given under the seat and bigger wheels like a bike to give you an equivalent speed as a motorbike.
4. Seated Electric Scooter
These resemble kick scooters yet have a seat on the contrary. This is a terrific choice if you have trouble standing for a long time but wish to enjoy the thrill of riding an e-scooter!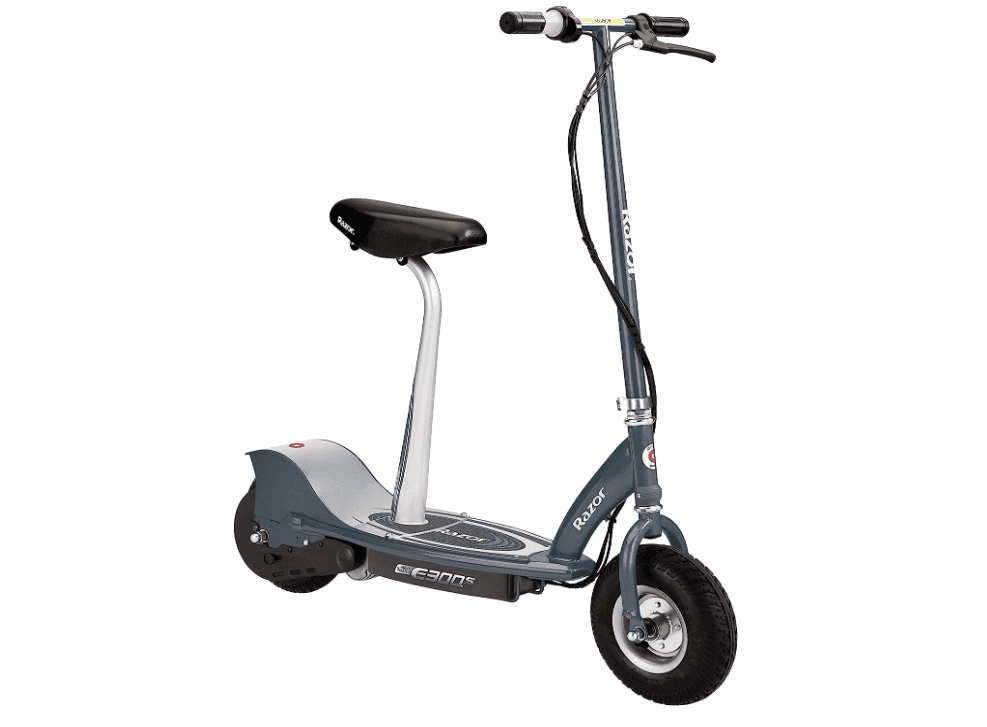 They provide even more features than normal electric scooters do. They are portable, while other types fold up, allowing you to take them to work or college with you.
E-scooters with seats are more durable and can support loads of up to 180 kg. The aircraft's aluminum shell offers them considerable endurance, and its tires can cross uneven terrain.
5. Three-Wheeled Electric Scooter
Three-wheeled electric scooters are nothing different, but an electric kick scooter with an extra wheel. You get more stability and balance with an extra wheel either in the front or back side of the scooter.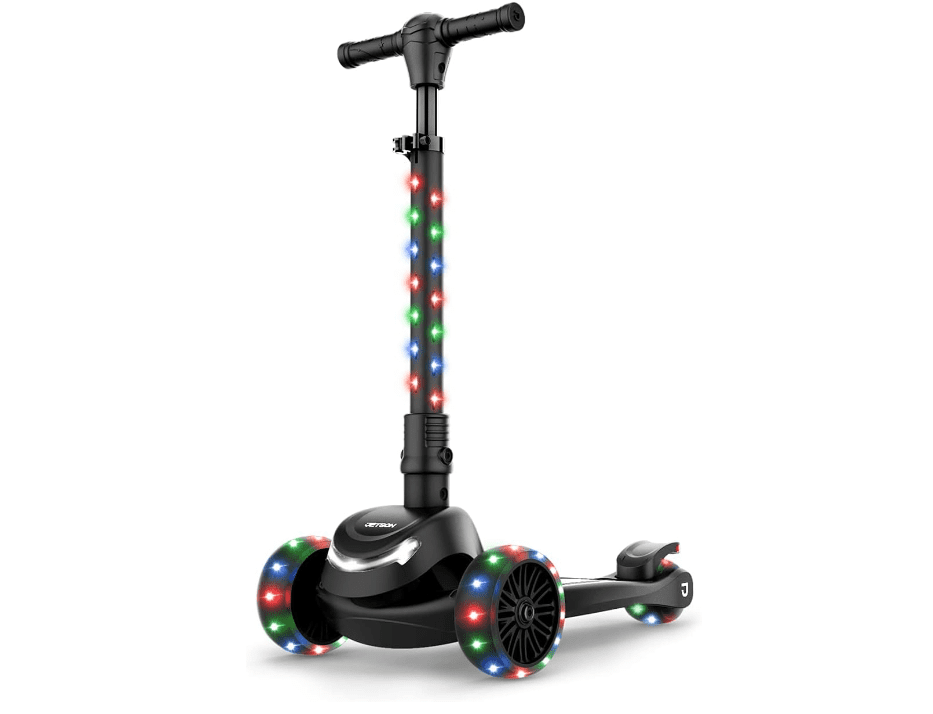 They are specifically made for kids as it is hard for them to ride on two wheels and to provide support while riding the scooter, preventing them from falling.
A few adult scooters are also available in the three-wheeled electric scooter category, which is a bit more difficult to ride in traffic than normal two-wheel adult e-scooters.
6. Off-Road (Tough Terrain) Electric Scooter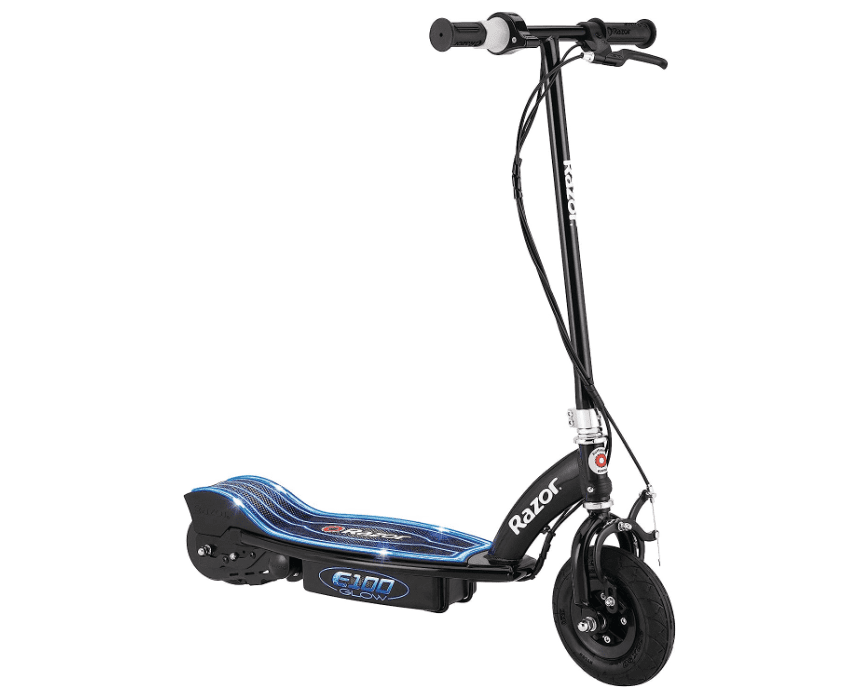 Off-road scooters are usually constructed with big tires for a smooth ride on tough terrains. It also has a bigger, heavier frame and powerful suspension, which helps absorb shock.
With their sturdy nature, you can expect a higher motor power for extra torque that is necessary on tough terrain such as muddy, rocky, and bumpy roads.
Additional Types Of Electric Scooters Based On Age Group
This is an additional category of electric scooter types based on the age group of riders. Some electric scooters are made specifically for kids and adults. To learn more about them, take a look at the details below.
Electric Scooters For Adults
Most of the types mentioned above are made and suitable for adults. These scooters have a wide deck that is big enough for an adult to stand and bear the weight of a grown-up person.
The minimum weight capacity of an adult electric scooter should be around 150kg, with stronger tires and a smart functioning braking system.
Electric Scooters For Kids
In contrast to an adult scooter, electric scooters for kids are basically made with extra precautions and safety features.
It is actually a fun and thrilling experience for kids to ride an electric scooter. However, it can be a little risky for them when they try to speed the scooter up.
If you see, three-wheeled electric scooters can be considered electric scooters for kids as they are best suitable for kids under 14 years. Plus, these scooters have more balance and grip on the handles and can restrict your kids to riding at a t lower speed.
Factors To Consider When Buying Any Type Of Electric Scooter
With an ocean of electric scooter brands in the market, choosing the best electric scooter from one of them becomes quite a hassle. Hence, you should remember the following features when buying the best electric scooter.
1. Range
Riding an electric scooter with better torque and mileage can make your commuting experience much smoother. Moreover, the factors that determine the range of an electric scooter depend on its engine, controller, and batteries.
For a smoother experience, you should opt for an electric scooter with motor power of 5000Wh and an in-built lithium-ion battery. Furthermore, its range should be around 30km, with 25bkm/h highest speed.
2. Controls
Electric scooters are one of the most practical and safest transportation modes, as their specifications help maintain a rider's balance.
Advanced and high-tech electric scooters are usually manufactured with better speed-limiting controls and a quicker yet smoother braking system.
Hence, you should consider the controls of an electric scooter as one of the most essential factors determining your safety to the fullest.
Basically, opt for a high-quality electric scooter for an improved set of controls and features to have a car-like experience on a compact and lightweight e-scooter.
3. Smart Features
Like everything else, Your e-scooter should be going digital, too, right? The great news is that smart features are incorporated into the most advanced e-scooter models.
Theft security, quick monitoring, auto lock and unlock, and ride efficiency are all possible through smartphone apps and IoT interaction.
4. Waterproof Rating
You should steer clear of riding any e-scooters in wet weather and snow. This is due to the potential of damage caused by water if water enters the internal parts, and if that occurs, your scooter may soon be beyond repair.
However, a few e-scooters are still made to endure splashes, snowfalls, and icy surfaces. Learning to verify if you can use a particular e-scooter in the rainfall can help you determine whether the electric scooter will get wet.
5. Portability
Electric scooters should be easy to use and carry around so that you can keep them in a car trunk and take them out to use while away on a picnic. Hence, buy an electric scooter that will be lightweight for better portability.
Moreover, if you buy a foldable electric scooter, you can just fold it and make it compact. It will allow you to keep the e-scooter aside while not using it.
6. Top Speed
If traveling is a first priority, the top speed of an electric scooter is crucial to take into account. An e-scooter's top speed is the maximum speed it can reach when fully charged. Most electric scooters can go between 20 and 30 mph speeds.
The exact top speed of an electric scooter is influenced by several variables, such as its suspension and the tires of the vehicle, plus the combined weight of the person riding it and the scooter.
Related Reads :
Wrapping Up!
That is a wrap on the different types of electric scooters that are widely available in the EV market.
The above-mentioned electric scooter types come in all ranges, top speeds, and budgets. From a normal electric kick scooter to a tough off-road electric scooter, these electric scooters should be chosen based on one's needs and preferences.
Moreover, don't forget to consider the necessary factors when buying an electric scooter and take a test ride with reviews.
FAQs
How much watt-powered e-scooter should you get?
 If you plan to buy an electric scooter, at least get a 250-watt power e-scooter with sufficient motor power.
What is the difference between mobility and electric scooters?
Mobility scooters function with the help of a tiller handle, which needs to be operated with both hands and has a seat to sit on. On the other hand, electric scooters are kick scooters that function depending on a battery-powered motor.
Which factors lower an electric scooter's speed?
Factors like rider's weight, low battery, smaller wheels, and low top speed lower an electric scooter's speed.