Riding an electric scooter always makes users worry about its speed and torque power. But have you ever wondered how the dual motor electric scooters could help you forget that issue?
Hence, to help you find the best one, we have gathered updated information on the market's top-performing Dual Motor Electric Scooters.
We'll give you our top options, stressing the essential factors that make each of them the best.
Whether you want a long-range, high-speed, or durable portable scooter, we have covered all possible areas regarding an electric scooter.
Top 10 Dual Motor Electric Scooters: In A Nutshell (2023)
After a deep study on electric scooters, we have elected the nine best dual-motor electric scooters from the industry's best ones.
Also, we have crucial factors in the chart below to provide you with an overview of all the picked e-scooters in the dual-motor category.
However, before you go through the chart, we would like to tell you a secret. We recommend going for the Kabbo Wolf Warrior X if you have high expectations about the scooter's highest speed and stability.
Now, to understand more about these dual-motor electric scooters, let's delve right into the details.
| | | | | |
| --- | --- | --- | --- | --- |
| Sr. No. | Dual Motor Electric Scooters | What Its Best At? | Price | Ratings |
| 1. | Kaabo Wolf Warrior X | Stability And Riding Quality | $1,799 | 5/5 |
| 2. | Unagi Model One E500 | Speed And Ergonmics | $990 | 5/5 |
| 3. | Dualtron Thunder 2 | Long Range Rides | $3,699 | 4.9/5 |
| 4. | Vsett 10+ | Smoothest Acceleration | $1,799 | 5/5 |
| 5. | Apollo Ghost | Fastest Speed And Quick Brakes | $1,499 | 4.5/5 |
| 6. | Varla Pegasus | Riding Quality And Handling | $1,099 | 4/5 |
| 7. | Mantis V2 | Great Value | $1,699 | 5/5 |
| 8. | NAMI Burn-e 2 | Sleek And Stylish Designing | $3,399 | 4.5/5 |
| 9. | Segway GT 2 | Comfortable Riding | $3,999 | 4/5 |
| 10. | Hiboy Titan Pro | Powerful but affordable | $799 | 4/5 |
1. Kaabo Wolf Warrior X
There are occasionally electric scooters that are quite impressive yet go unnoticed for no apparent reason. One good illustration is The Wolf Warrior X.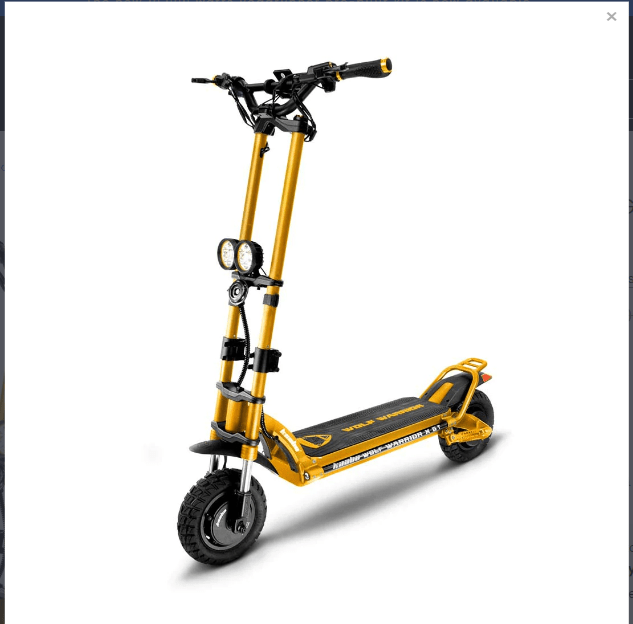 The Wolf Warrior X is the quiet market leader you would like to take into consideration.
Being among the most underrated and ignored scooters, it is an excellent option if you're looking for one that surpasses all categories. How do we establish this?
In all of our performance evaluations, the smaller version of the wildly famous Wolf Warrior 11 performs in the top percentile, competing against our most aggressive Beasts.
Technical Specifications
Top Speed: 71.0 Kmh
Maximum Range: 51.5 Km
Scooter Weight: 36 Kg
Loading Capacity: 120 Kg
Waterproofing Certification: IPX5
Pros
This scooter allows you to see well when it gets dark.
It is one of the most stable and has the easiest handling system.
Best riding quality deliverance.
Cons
The display has dim color shades.
It has a throttle system which is a little unsettling for riders.
2. Unagi Model One E500
The Unagi Model E500 is an exemption in the electric scooter industry as it was a scooter that came with a mandatory subscription business model.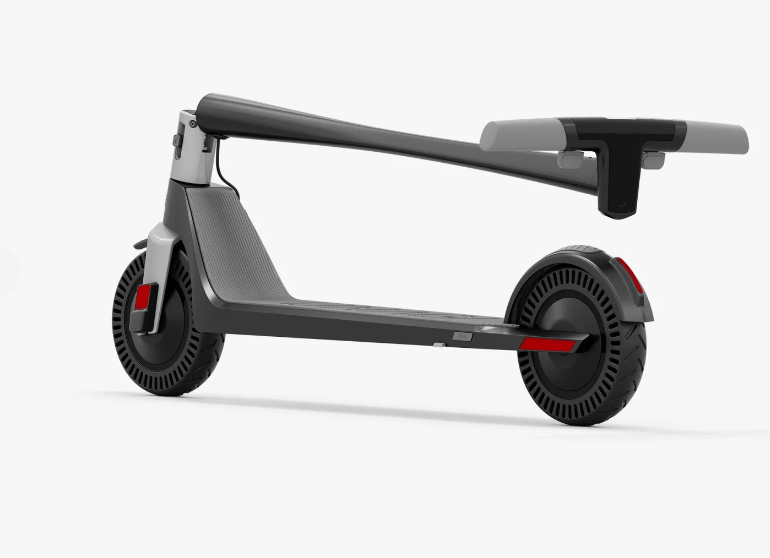 Also, it was rapidly growing when the company launched the infamous Unagi Model One.
It is pretty popular among electric scooter users for its great performance as a dual-motor electric scooter, as it came at a lot cheaper price than other dual-motor e-scooters.
The Unagi Model One is one of the most lightweight dual-motor scooters, which comes under $900.
The scooter's top speed is a respectable 32 km/h, and a single charge allows it to travel up to 14 km.
Also, the Unagi is the greatest hill climber that has ever been tested, pound for pound.
Due to its sturdy tires and regenerative braking, the scooter also requires very no maintenance.
Unagi is a powerful brand that encourages you to cherish the scooter as if it were your own, get to know your town, and enjoy commuting as stress-free as possible.
Technical Specifications
Top Speed: 32.2 Km/h
Maximum Range: 13.7 Km
Scooter Weight: 13 Kg
Loading Capacity: 120 Kg
Waterproofing Certification: IP54
Pros
It provides great earnings if given for rental services.
This scooter has fantastic speed and power.
It is absolutely lightweight, which makes it even more efficient.
It has a wonderful and smoothly designed structure.
Cons
This scooter is not made for short-range commuting.
Even though it is best as a portable scooter, it lacks in delivering great suspension.
3. Dualtron Thunder 2
If you liked the predecessor of the Dualtron Thunder 2, The Thunder, you already know how great its performance was.
But if you like riding like a pro rider and enjoy that adrenaline rush, we suggest you go for the Dualtron Thunder 2. It is said to be the boss of the riding experience.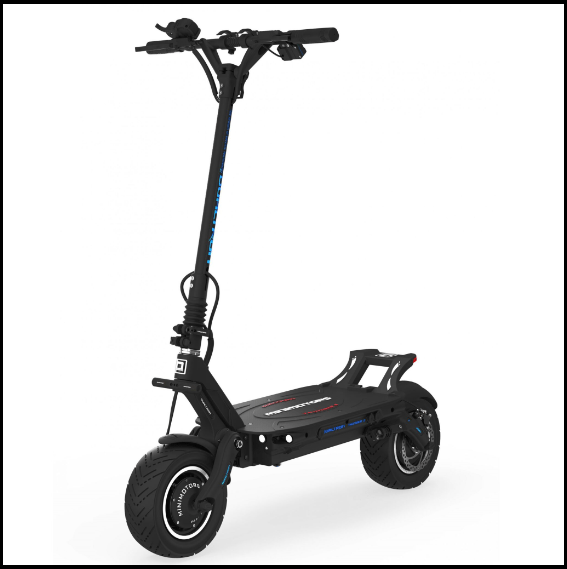 The Dualtron Thunder 2 also boasts a powerful battery with a capacity of 72 Volts, 2880W, and 21700 LG automotive-grade cells that aids in maximizing mileage.
The Thunder 2 can provide ten km/h of maximum output. The double-click accelerator releases the full ferocity of 10,000W of engine power.
Also, it accelerates your ride to eye-watering speeds, which is even crazier.
With the Dualtron Thunder 2, you can simply give a chance to your comfort by attaching a seat attachment.
Also, to add more, with its replaceable rim design, you don't have to worry about the tires giving you trouble, and rest assured while riding.
Technical Specifications
Top Speed: 93.9 km/h
Maximum Range: 95.8 Km
Scooter Weight: 47 Kg
Loading Capacity: 120 Kg
Waterproofing Certification: None
Pros
The Dualtron Thunder 2 provides the longest range among its competitors.
Youngsters can have a stylish riding experience with this scooter.
It has been made with a strong and durable structure.
It gives a rushing experience while riding it.
Cons
It doesn't come with a high-mounted headlight.
It has an outdated lighting system.
It is heavy for physically weak riders.
4. Vsett 10+
The Vsett 10+ has been the ruler of the medium-sized electric scooter ever since it entered the market. Also, no other electric scooter has been able to outdo the popularity of this scooter.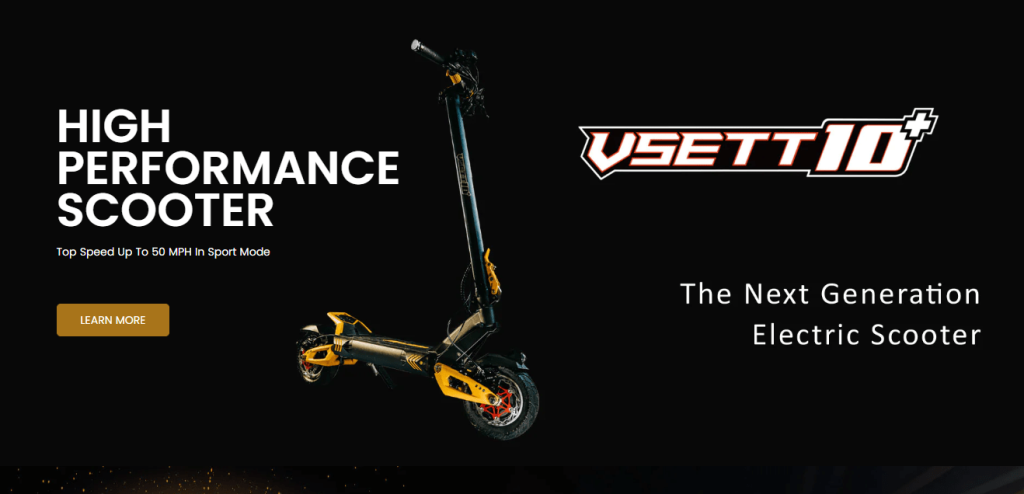 Also, if performance is crucial to you, you won't be disappointed with the performance of this electric scooter.
It has two powerful dual motors that can produce a maximum power of 2800W.
Because of this incredible power, the scooter can sprint from a complete stop to 24.2 km/h in just a few seconds.
The outstanding build quality of the Vsett 10+ makes it stand out in addition. All of the elements work together harmoniously to create a well-made black & yellow e – scooter.
Starting at the top, we have a sleek cockpit with well-designated buttons and a well-designed EY3 display with a trigger accelerator.
Also, comfortable brakes on the ends of the thrust handlebars. Also, as a cherry on the cake, the electric scooter can be started using an NFC card reader.
Technical Specifications
Top Speed: 69.7 km/h
Maximum Range: 54.1 Km
Scooter Weight: 36 Kg
Loading Capacity: 130 Kg
Waterproofing Certification: IP54
Pros
The Vsett 10+ is the only one to have an A++ (grade) Stem.
It has the best acceleration among its competitors.
Cons
It has a dimmed display.
The company can improve the ergonomics of the scooter.
5. Apollo Ghost
The Apollo Ghost was one of the most affordable electric scooters launched with many public talks.
Its speed and smooth sailing experience for the riders are unmatchable as the top speed hits 61.8 km/h, leaving all the other e-scooters behind.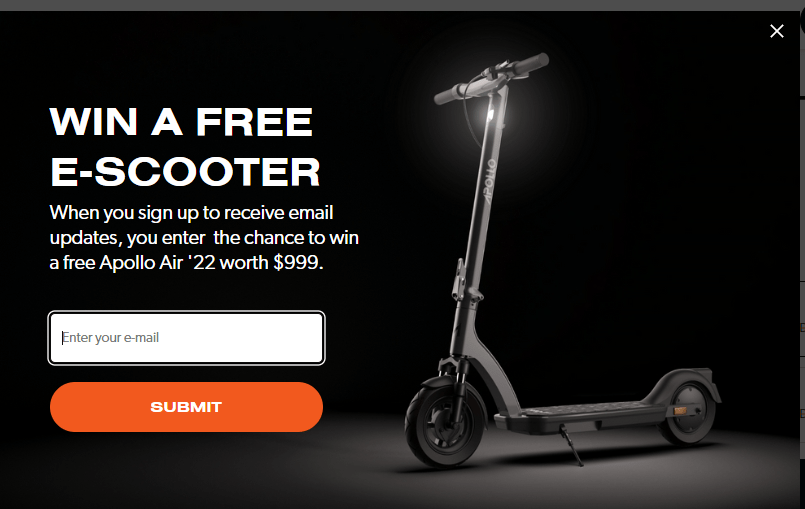 Moreover, the Ghost has distinct buttons for Single, Dual, and Eco/Turbo motors as well as for customizing the ride.
Each of the dual motors' ratings is 800W, with a peak of 1000 watts (2000W combined). As a result, the scooter accelerates from 0 to 24.2 km/h in 2.5 seconds.
Also, it offers enough torque to climb our 60-meter, 10% incline in 8.8 seconds.
Along with considerable power, its dual cable-operated brake system give the scooter a decent braking distance at 3.2 m.
Lastly, to talk about its negative side, this scooter has a slippery deck to stand on, which results in moving you forward when you pull the brakes quicker and harder.
Technical Specifications
Top Speed: 61.8 km/h
Maximum Range: 35.9 Km
Scooter Weight: 29 Kg
Loading Capacity: 140 Kg
Waterproofing Certification: IP54
Pros
The Apollo Ghost is said to be one of the fastest scooters in its category.
It has the quickest pair of brakes.
It allows you amazing.
Cons
Durable and powerful front suspension.
The grip on the throttle needs more tape layers.
6. Varla Pegasus
The Varla Pegasus is also one of the best electric scooters in the affordable range category.
This scooter's dual spring suspension technology, which is uncommon for electric scooters in its price range, really sets it apart from the competition.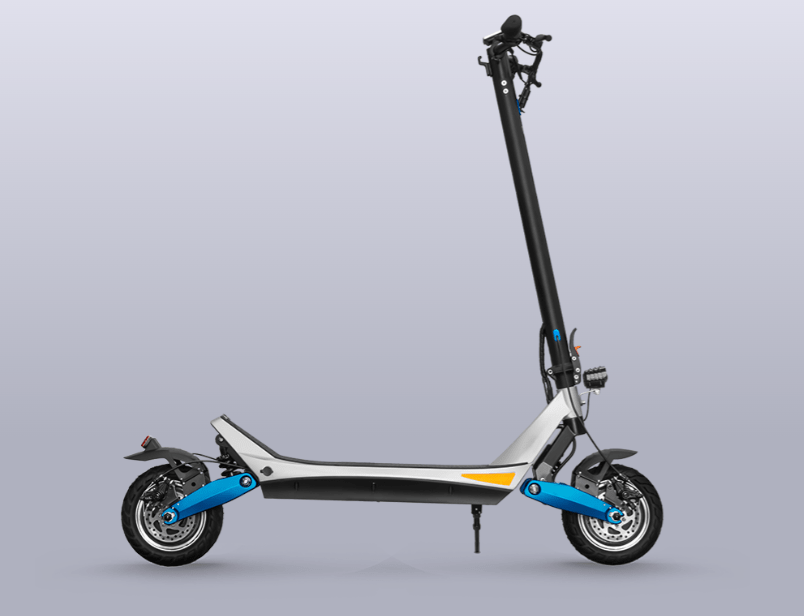 Although it doesn't provide a great suspension and can cause some trouble after some period, however, it helps better the rider's riding experience with durable and extra wide tires.
Despite this, the Pegasus is mostly chosen for city riding and is less of a speedster than it is a cruiser.
With its dual 500W motors and peak power of 1600W, it can climb hills with ease and reach top speeds of 40.3 km/h. This electric scooter's 48V 748.8 wh battery has a proven range of up to 29.3 km.
Also, it offers you one of our most impressive displays, ensuring that you are always aware of your riding statistics and riding efficiency.
Lastly, as an extra advantage, it has a dual braking system. This system includes regenerative brakes in addition to the front and rear disk brakes to improve stopping power.
Technical Specifications
Top Speed: 40.3 km
Maximum Range: 29.3 Km
Scooter Weight: 30 Kg
Loading Capacity: 130 Kg
Waterproofing Certification: IP54
Pros
Even though this scooter is affordable in price, it delivers great performance.
The internal steering restrains the stability and handling of the scooter.
It is a suitable option for beginners as its maximum speed doesn't cross the safety limits.
Cons
It has relatively flat tires, which reduce the smooth riding experience and comfort.
It doesn't have smooth brakes for smooth sailing.
7. Kaabo Mantis V2
The Mantis provides an overall best performance with great value, but some aspects stick out for us.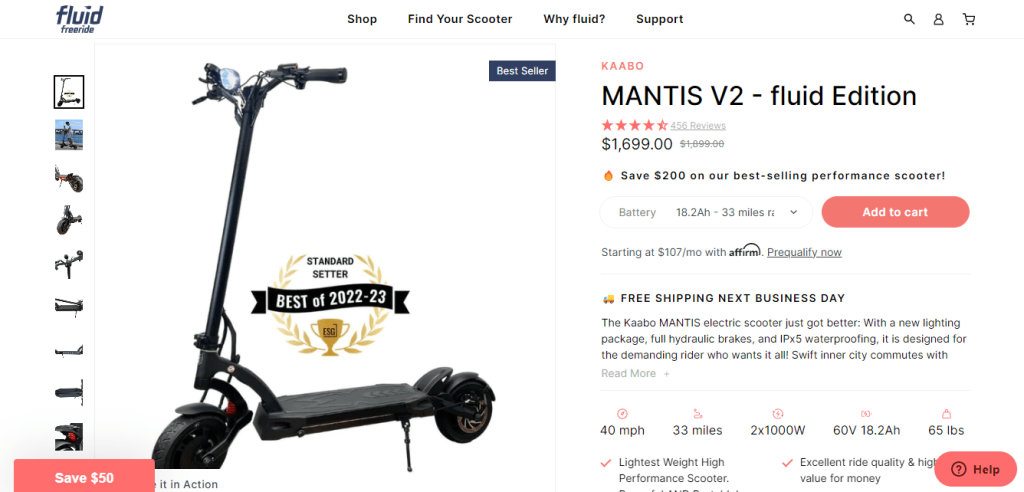 The scooter accelerates wonderfully smoothly thanks to the sine wave controls.
Also, The V2 includes a sizable LG or Samsung 1092 battery that gives the scooter a range of 43.8 kilometers.
The 25-centimeter x 6-centimeter tires, the dual front and rear spring suspension, and the wobble-free stem all contribute to the scooter's excellent riding quality.
Also, riders can benefit from the unrivaled stopping power of Zoom hydraulic brakes and the security of a complete lighting profile with turn signals.
The extra tire covering fender works in favor of the IPX5 grade to provide additional protection to you and your electric scooter when going through potholes.
Technical Specifications
Top Speed: 60.1 km/h
Maximum Range: 43.8 Km
Scooter Weight: 30 Kg
Loading Capacity: 120 Kg
Waterproofing Certification: IPX5
Pros
The affordable price of this scooter delivers even better performance than most highly costing e-scooters.
It also comes with better than before fender coverage or protection.
Additionally, you can enjoy smooth acceleration while riding with the help of its sinewave motor controllers.
Cons
The manufacturer can work to improve the throttle ergonomics.
It doesn't have a brighter display, making it harder to be seen in the dark.
8. NAMI Burn-e 2
The hand-built electric scooter known as the "BURN-E 2" is still breaking records set by its predecessor.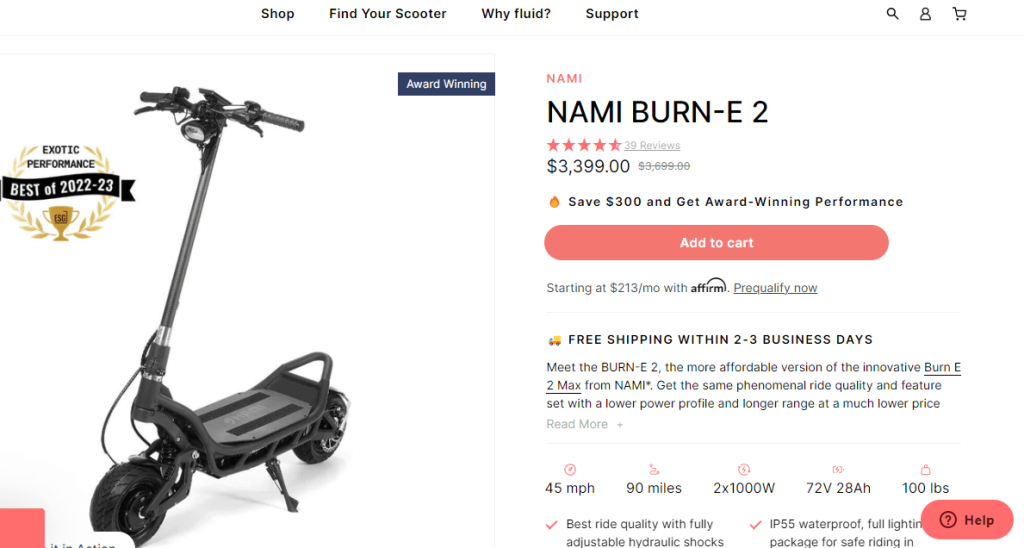 Why should you choose this electric scooter? The reason is that the carbon fiber stem and hand-welded frame combine for a strong body.
Also, the Logan 2-piston hydraulic brakes, which outperform the original Nutt brakes, are installed on the scooter.
Moreover, the BURN-E 2 has a hydraulic front and rear suspension that can be adjusted so that the rebound damping can range from bouncy to rigid.
The adjustable steering damper and the strong, welded cylindrical frame provide incredible ride quality and stability. Moreover, the TUOVTT tires provide fantastic track experiences aside from that.
Additionally, you can customize the modes with the help of independent motor control.
Lastly, to encourage your interest in the scooter, know that this motor boosts the speed and allows the scooter to reach a maximum speed limit of up to 70 km.
Technical Specifications
Top Speed: 70.5 km/h
Maximum Range: 79.1 Km
Scooter Weight: 46 Kg
Loading Capacity: 150 Kg
Waterproofing Certification: IP55
Pros
Again, like most of the e-scooters we have mentioned in this article, this scooter also is a great deal for its price.
You can enjoy a comfortable ride with this scooter.
It comes with an extra stylish design.
Cons
The brakes on the handlebar have shorter cables.
9. Segway GT 2
The PM OLED display is also known as the perfect imitation of an exact display on a war aircraft.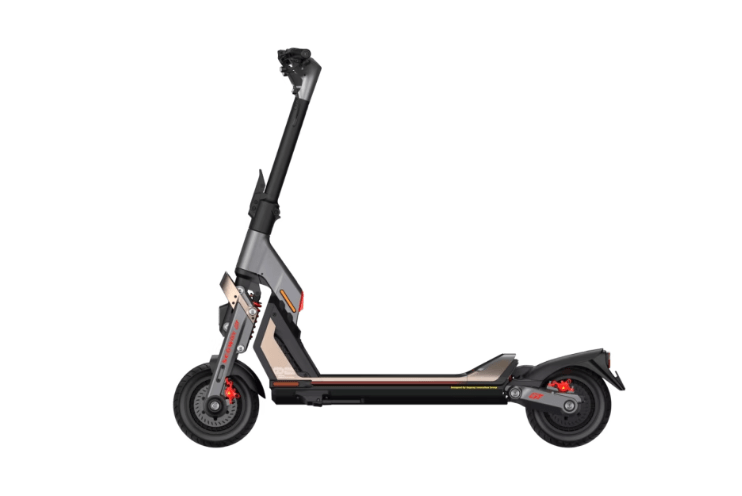 Also, it's undoubtedly the most remarkable feature of the GT2, and it must be mentioned in any discussion about the scooter.
Plus, the display raises the appearance of the cockpit to a standard that we hope future manufacturers will meet or even surpass.
After that, there is its traction control. You won't notice it until you switch it off because it works nicely.
However, the motor cuts power to the front wheel if you chance to be on a loose sand trail when your front wheels start spinning far more than usual.
This allows you to acquire a greater grip. Impressive right?
We haven't even discussed the motorcycle-style twist throttle. It makes us rethink the reliability of any other scooter throttles.
Also, they offer seamless acceleration, which is uncommon for beast scooters but builds up quickly. 1.9 seconds will get you to the 24.2 km/h barrier.
Plus, the sudden acceleration that is provided by the Boost mode switch is truly amazing. It is fairly impressive for Segway, considering they just entered the dual-motor market.
Technical Specifications
Top Speed: 67.3 km/h
Maximum Range: 53.0 Km
Scooter Weight: 52 Kg
Loading Capacity: 150 Kg
Waterproofing Certification: IPX4
Pros
This scooter has a futuristic approach toward the aesthetics of the designs.
Additionally, for your riding comfort, it has a wide deck to stand.
The Segway GT2 delivers innovation-oriented ergonomics.
Cons
It's not really up to the mark compared to the price.
The promised top speed is not delivered as per the survey.
10. Hiboy Titan Pro
Hiboy titan pro is the one of the affordable electric dual scooters that has 2000 watts. The scooter has a Good Suspension system. Due to the Shock absorbers feature, riders ensure a smooth and reliable ride.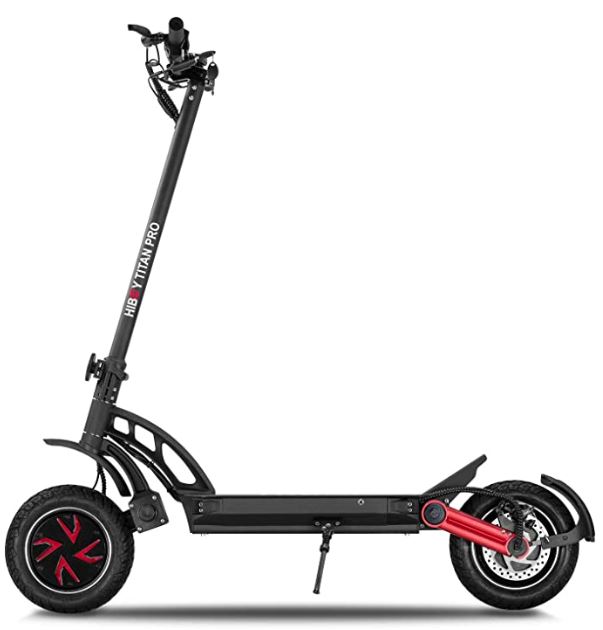 One of the most important features of Hiboy titan pro is ,it is IP55 Water resistance. It Doesnt mean you can ride the scooter under the water bust some occasional don't hurt it .
Technical Specifications
Top speed – 32mph
Motor – 2 x 1,200W
Max range – 40 miles
10″ pneumatic tires
IP55 water-resistance rating
Pros –
The scooter has good top speed
It is affordable in price
The scooter has Dual Motors and it also gives great mileage.
Cons –
Scooter has short handle ,not the good for tall rider
Related read:
Wrapping Up On Dual Motor Electric Scooters (2023)
So, here are all the greatest dual-motor electric scooters of the year. We are confident you will find the ideal scooter for your needs among the various selections available.
One of these scooters will undoubtedly suit your needs, whether you're searching for a robust machine for off-road excursions or a comfy ride for errands around town.
Therefore, given the vast range of costs and features, it is crucial to conduct a thorough study before making a decision.
However, if you ask us, we prefer the Kaabo Wolf Warrior X as our ultimate savior, as it delivers the best riding quality and stability with a top speed of 71 Kmh.
We're convinced, though, that using our list as a reference will help you locate the ideal twin-motor electric scooter for your requirements and price range.
FAQs
Are brushless motors used in electric scooters?
Brushless DC motors are frequently found in electric scooters. However, brushed manufacturers can also use DC motors.
How exactly does the motor of an electric scooter work?
The controllers get a signal from the throttle when you press the pedal, instructing them to draw electricity from the battery and direct it to the scooter's motors. This process causes the wheels' kinesis.
How many watts do electric scooter motors typically have?
Typically, it is determined by the electric scooter.
Budget electric scooters may have motors as low as 250W, whereas high-performance electric scooters may have two 2000W motors.
What actually is a dual-motor electric scooter?
An electric scooter with two separate motors rather than one is known as a twin-motor e-scooter. 
Riders are given greater control over rocky terrain and are able to transport larger loads without slowing down.