Nowadays, all you need is the finest folding electric scooter because scooters are a terrific way to travel around town, but they can be cumbersome to transport.
The lightweight folding electric scooters with long-lasting batteries, additional safety features, dual disc braking systems, non-pneumatic tires, and intuitive controls were prioritized when compiling our list of the best folding electric scooters.
You can be assured while picking the best electric scooter according to your needs by keeping these features in mind.
However, let's check out the detailed information about the top foldable electric scooters trending in the market to know which one ranks in your own list.
Top 9 Folding Electric Scooters: In A Nutshell (2023)
To check out all the electric scooters at a glance, we have curated the chart given below with some essential factors you need to know before learning in detail.
| | | |
| --- | --- | --- |
| Sr. No. | Electric Scooter | Ratings |
| 1 | Unagi One | 5/5 |
| 2 | GoTrax GXL2 | 5/5 |
| 3 | Kaabo Wolf Warrior X | 4.5/5 |
| 4 | The Mantis Pro | 4.5/5 |
| 5 | Dualtron Thunder | 4/5 |
| 6 | Segway Ninebot ES1L | 4/5 |
| 7 | Segway Ninebot ES2 | 4.5/5 |
| 8 | Hiboy S2 Pro | 4.5/5 |
| 9 | Swagtron swagger 5 | 4/5 |
1. Unagi One
The Unagi One is one of the smallest and lightest folding electric scooters currently available.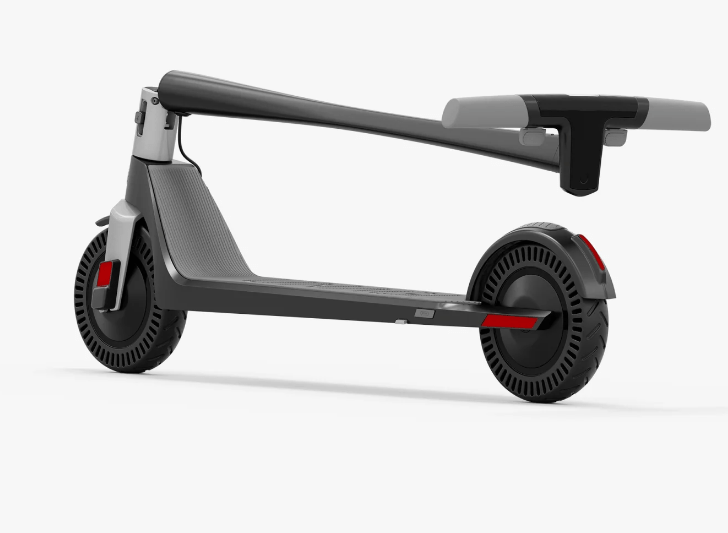 It only weighs 23 pounds (10.4 kilograms), and with the push of a button, the stem folds down to be even with the board. Approximately 4 pounds more are carried by the dual motor.
Since it is so lightweight, it may not be as important that it doesn't attach to the rear bumper as most do for increased stability when carried.
Key Features –
Dual motor options: 250W & 500W
Battery capacity: 33.6 V, 9.0 Ah
Folding Dimensions: 37.7*16.5*43.3 Inches
Maximum Range: 15 miles
Top speed: 17 mph
Tires size: 7.5'*2″
Loading capacity: 275 lbs
Price: $990
2. GoTrax GXL V2
The folding mechanism is similar to that of the Segway, albeit it differs in that it folds at the lowest portion of the board.
Because you need to unhook a safety pin before pulling a lever, it's a little trickier than the Ninebot.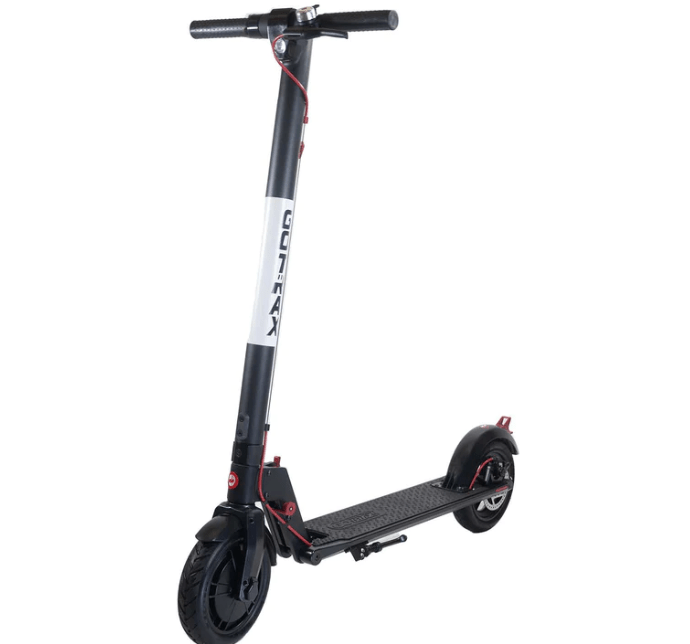 Even though this scooter works fine and is very easy to use, it might not suit you if you are a person who easily gets irritated or annoyed.
Also, this electric scooter is one of the
Key Features:
Top speed: 15 mph
Maximum range: 12 miles
Loading capacity: 220 lbs
Tires: Pneumatic tires
Tires size: 8.5 *2 Inches.
Loading capacity: 275 lbs
Folding Dimensions: 39 * 17* 19 Inches.
Price: $349
3. Kaabo Wolf Warrior
Although the Wolf Warrior isn't meant to be a commuter, portability is still crucial because you'll probably take it to your local motocross park or something similar for some fun.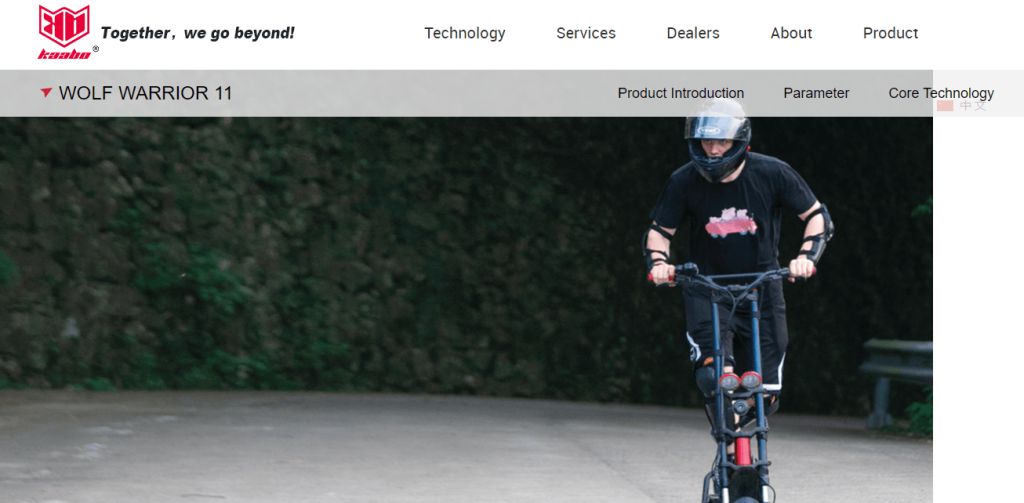 The right pins, bolts, and latches ensure that this beast can be folded without sacrificing riding quality while soaring through the air and hitting the ground forcefully.
After all, it does weigh 101 pounds (45.8 kilograms). Like the majority of extreme scooters, the handlebars and stem are not retractable.
The folding mechanism is cleverly situated on the front side of the board to ensure there is no chance of stem wobbling.
Key Features –
Maximum range: 40 miles
Top speed: 45 mph
Loading capacity: 270 lbs
Hill climbing capacity: 34 degrees
Charging power: 67.2V2A 1+3
Brakes: Hydraulic disc
Price: $1899
4. Kaabo Mantis Pro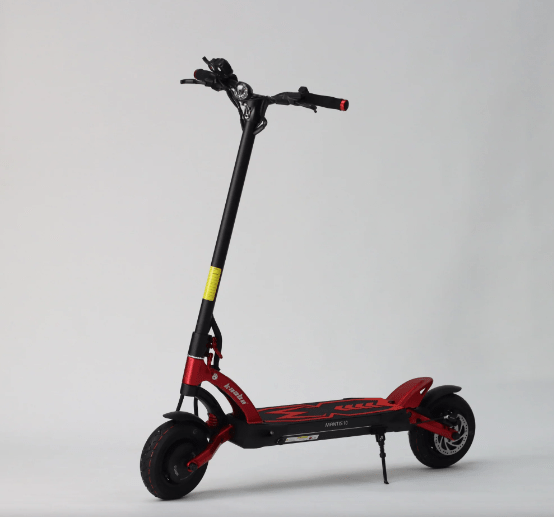 One of my favorites is the Mantis Pro, which excels at so many different things. Although it weighs 65 lbs (29.4 kg) more than a standard electric scooter, the Wolf Warriors' domain is still rather distant.
Folding the stem is a simple task thanks to two quick-release levers that resemble those on a bicycle. When it is lowered, it latches onto the back bumper to securely secure it before lifting. However, the handlebars do not fold.
This One may be used for daily commuting, and folding the stem just takes a few seconds, even if you use it several times every day.
Even at top speed, you feel quite safe thanks to the excellent suspension and terrific ride provided by the pneumatic tires.
Key Features:
Top speed: 40 mph
Maximum range: 45 miles
Brakes: Hydraulic brakes
Motor potential power: 2*60V 1000W
Battery power: 60V 24.5 Ah LG
Price: $2299
5. EMOVE Touring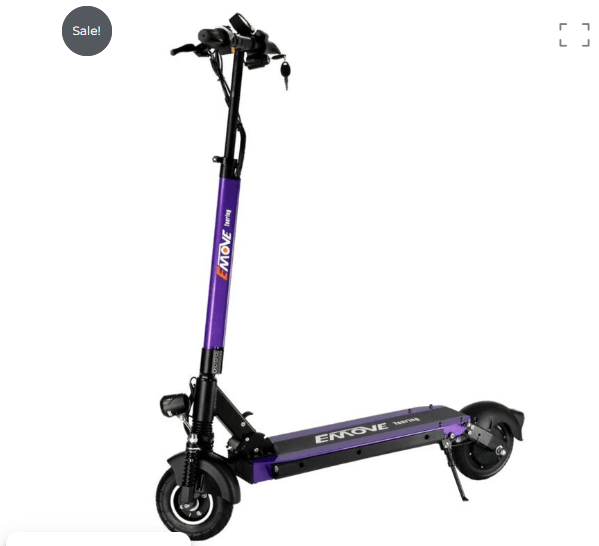 Being one of the best scooters in its pricing category, the EMOVE Touring combines mobility, speed, and range.
It has three reliable folding mechanisms, and its folded dimensions are compact for simple storage.
It will far exceed your expectations, given the cost. Also, you're going to want to ride this commuter scooter everywhere.
Key Features:
Top Speed: 24 Mph
Maximum range: 25 Miles
Loading capacity: 308 lbs
Folding Dimensions: 39.3* 22*47.2 Inches
Brakes: Drum Brakes
Price: $899
6. Dualtron Thunder
The Dualtron Thunder is a quality piece of equipment that can challenge the Mantis for the title of best folding electric scooter. But with 95 pounds, it is considered to be heavy (43 kg).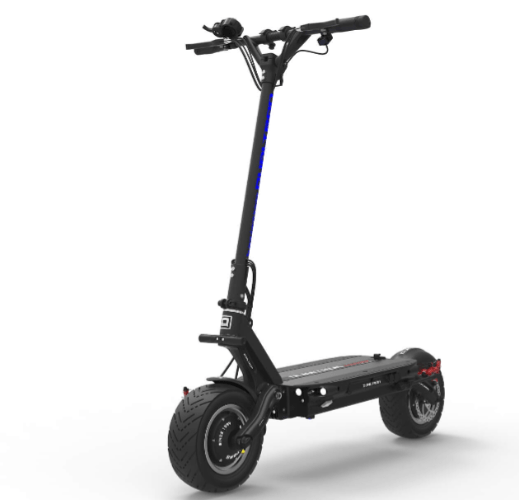 Additionally, the handlebars fold, making it easier to maneuver them into a car trunk.
The fact that the Dualtron Thunder electric scooters are foldable is, in my opinion, merely a phenomenal benefit and not one of their primary strengths.
Key Features:
Top Speed: 50 Mph
Maximum range: 75 Miles
Loading capacity: 265 lbs
Folding Dimensions: 48 * 12 * 21 Inches
Brakes: ABS Brakes (Front & Back)
Motor Potential Power: 2*1200W Base/5400W Peak
Price: $2995
7. Segway Ninebot ES1
With a respectable 250W engine and a top speed of 12.4 mph, the Segway Ninebot ES1L is a foldable electric scooter.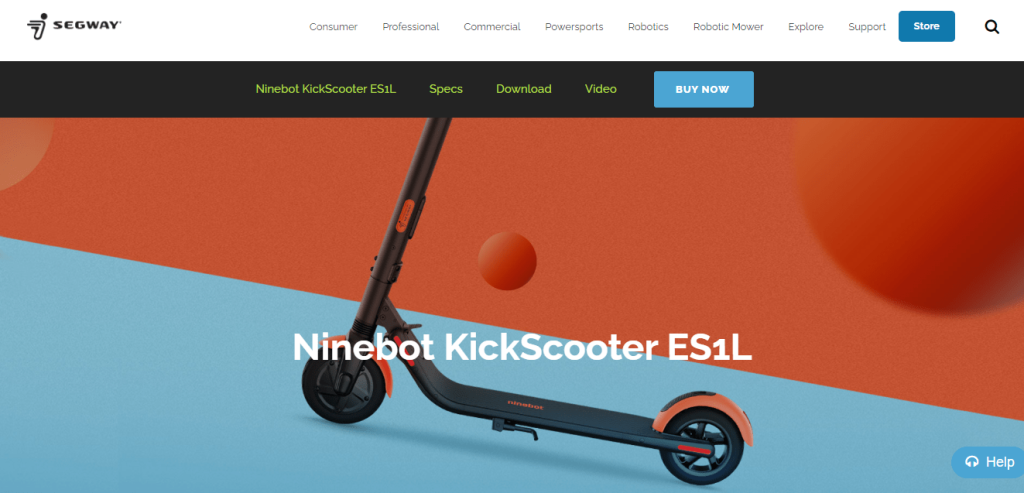 It can support riders weighing up to 220 lbs. and has front suspension and front and rear brakes.
It's the go-to option for an excellent, simple-to-drive, and very portable electric scooter with above-average performance and better battery strength.
Key Features:
Top Speed: 15.5 Mph
Maximum range: 12 Miles
Loading capacity: 220 lbs
Folding Dimensions: 45 * 17 * 16 Inches
Brakes: Front brake along with a rear step-on brake.
Motor Potential Power: 300W in the brushless hub motor
Price: $546.58
8. Glion Dolly
The Glion Dolly may be right for you if you insist on the utmost simplicity at all times and from your everyday commuter e-scooter.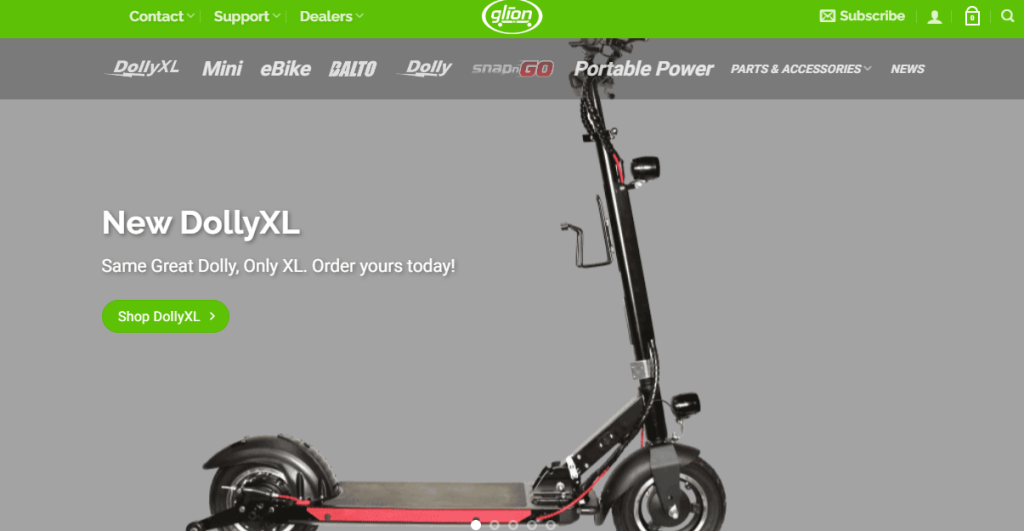 In addition to being foldable, it also features a pull-out handle that is connected underneath the board after it is folded, just like a piece of luggage.
Two small supporting wheels are also linked to the rear wheel and protrude to the sides.
The wheels on this scooter are comparable to those on a kid's learner bike, allowing you to pull it along behind you like a suitcase.
It really is a pretty cunning technique. Even though it only weighs 28 lbs (12.7 kg), this will be helpful if you need to move it over slightly greater distances by hand. The handlebars also fold.
Key Features:
Top Speed: 15 Mph
Maximum range: 15 Miles
Loading capacity: 255 lbs
Folding Dimensions: 37 * 12 * 8 Inches
Brakes: Front lights along with rear tail lights.
Motor Potential Power: 250W in a brushless motor.
Price: $599
9. Swagtron Swagger 5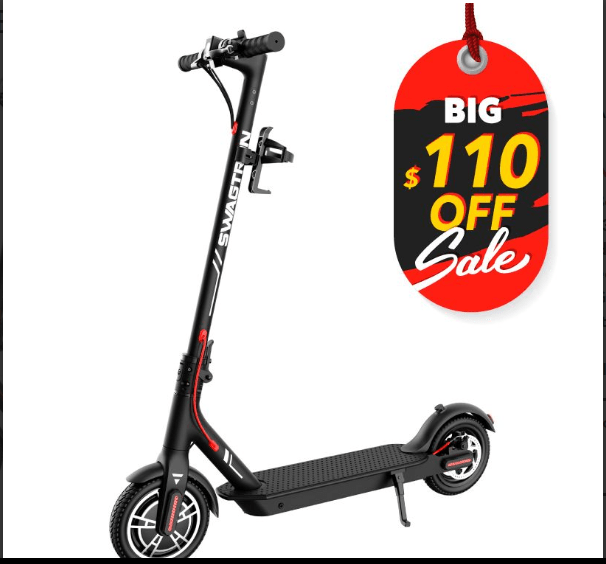 To be frank, the Swagtron Swagger 5 is essentially a Xiaomi M365 that has been upgraded.
Therefore, without repeating myself, what was said previously and what I intend to add about the Swagger 5 are essentially the same.
It will ultimately come down to retailer preference or style, whether you choose this one or Xiaomi.
Key Features:
Top Speed: 15 Mph
Maximum range: 18 Miles
Loading capacity: 220 lbs
Folding Dimensions: 42 * 17 * 19 Inches
Brakes: Front lights along with rear tail lights.
Motor Potential Power: 250W in a brushless motor.
Price: $349
Related Read:
Conclusion: Best Folding Electric Scooters (2023)
So, this was the insider information on the top folding electric scooter. Some scooters are expensive, some are cheap, and some are just within your budget.
For readers, it's often not just about buying but getting information from the internet.
So, for readers who were looking for our final choice among these few folding electric scooters, we declare the 'Unagi One' as our first choice. The Unagi One is best from all perspectives in our eyes according to its speed, performance, or mileage.
So, this was it on folding electric scooters from our side. We hope that this article was helpful to you in many ways. Also, let us know your feedback in the comment section.
FAQs On Folding Electric Scooters
1. Can you fold the handlebars of the electric scooter along with other parts?
Only some of the foldable electric scooters with unique feature sets have foldable handlebars. Normally, electric scooters only have collapsible stems.
2. Which features are essential to be checked before buying an electric scooter?
The following features are essential to be checked – Range, Speed, battery, wheels, and comfort.
3. Which electric scooter is the quickest to fold?
The Unagi One electric scooter is one of the quickest to fold.
4. How long do electric scooters last?
Personal electric scooters last about three years, while rental-sharing electric scooters last for about 15-18 months.