This post contains affiliate links, we'll earn compensation if you make a purchase using them at no additional cost to you 😊
Onewheel or electric scooters have been a topic of discussion for a while. Both offer advantages and drawbacks, but which is the better option? Onewheel Or Electric Scooters?
If you like thrilling rides, Onewheel will serve you better as it is a fun yet exciting way of transport. Long story short, it is something new and inventive.
In contrast, the electric scooter does enough job for casual and long-distance traveling riders with a simple and quick process to ride it.
Therefore, To determine which choice is superior, we will examine both choices in more depth in this article.
So, to assist you in choosing, below is a brief comparison between electric scooters and onewheels.
Quick Comparison Between Onewheel And Electric Scooters
Here is a direct comparison between Onewheel And Electric Scooters based on parameters like ease of use, Adaptability, Speed, safety concerns, and Maintenance.
There you go…
| | | |
| --- | --- | --- |
| Parameters | Onewheel | Electric Scooters |
| Ease Of Use | Difficult But Manageable to control skills. | Safer than Onewheel, however, the rider should at least wear a helmet and kneed elbow pads. |
| Adaptability | Requires complete focus. | Easy to ride. |
| Speed | 12-19 Mph On Average | 16-30 Mph On Average |
| Safety Concerns | Risky, Rider should be completely protected. | Safer than Onewheel. However, the rider should at least wear a helmet and kneed elbow pads. |
| Maintainance | Expensive | Affordable |
What Is Onewheel?
Onewheel is a single-wheel board that provides an exciting and thrilling riding experience. It is quite similar to an electric scooter. The wheel has a single wheel in the center of the board, which is controlled by leaning your body weight in the direction you want to go, and you can stop the wheel by putting your foot down.
How Do You Ride Onewheel?
Learning how to ride a onewheel is time-consuming and pretty complicated. You can expect factors like Resilience, capacity, and practice while riding an Onewheel.
Moreover, along with being complicated to ride, it is risky to use an Onewheel as well. Hence, you must wear safety gear like a helmet and knee-elbow pads while riding an Onewheel.
Furthermore, you should follow the below factors to ride an Onewheel securely:
1. Ride your Onewheel in an open area:
You should practice riding your Onewheel in an open area first before taking it out in a crowded area. It will help you avoid any kind of accident or danger.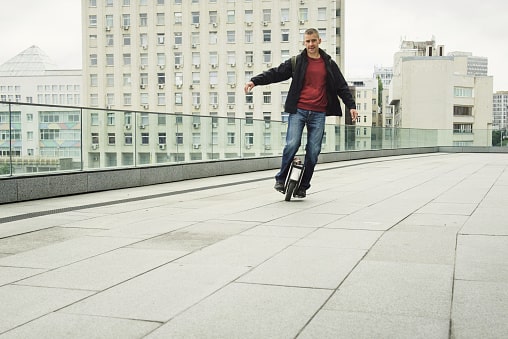 2. Begin with Learning the Vehicle:
It is very important to take as much time as you want to learn how to ride a onewheel as it is a bit more complicated than riding any other vehicle.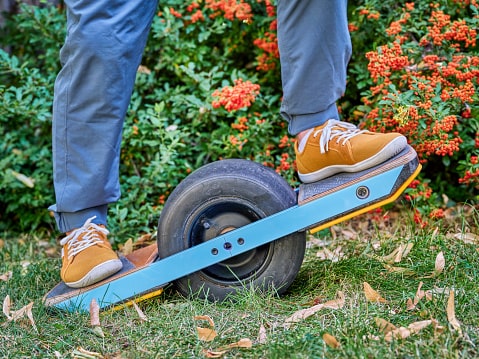 Plus, getting to know all the specifications and functioning of your Onewheel is recommended to avoid any malfunction later.
3. Stand on your Onewheel Properly
You must be as careful as possible when standing on a onewheel, just like you do on a skateboard.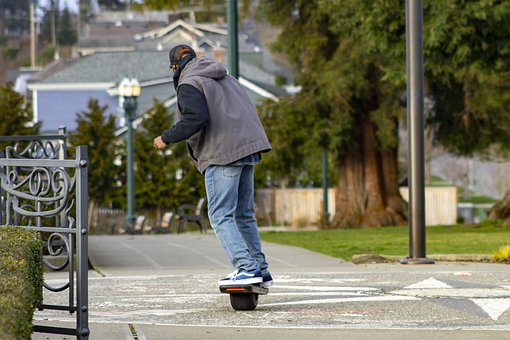 Make sure you stand comfortably on a onewheel before you start riding it. Otherwise, if you are uncomfortable standing, get off the Onewheel and try to get on it again to stand comfortably.
4. Continue to Keep a Good Stance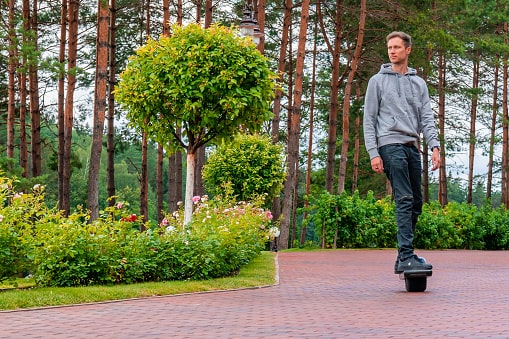 When you start riding the Onewheel, try to maintain a good stance if you are standing comfortably on the Onewheel.
It will be much easier to ride a onewheel if you continue a stance that helps you to ride at a stable pace.
5. Increasing Speed
The Onewheel makes the speed increase noticeably. Furthermore, as the rider bends forward and applies pressure on the footpad, the one wheel moves forward.
6. Taking a turn
Onewheel riders must bend their knees a little and stretch their knees slightly to make a left or right turn.
7. Moving Forward and Backward
If the rider leans backward, Onewheel will stop; while the rider leans forward, Onewheel's speed will increase; if the rider leans backward, Onewheel's speed will decrease.
8. Getting Off the Onewheel
Some riders may find the Onewheel a little intimidating. However, it is quite simple to get yourself off. You must stand on two feet to get out.
What Is Electric Scooter
Electric scooters are powered by electricity rather than by pedaling and are very simple and easy to use. Electric Scooters are lightweight and minimal in design. The main advantage is that it is easily foldable. The scooter is usually powered by a motor located in the front wheel. Then you twist the throttle to start the engine, and off you go!
How can you ride an Electric scooter?
Compared to the Onewheel, long-distance electric scooters are much easier to ride on and provide excellent assistance for users.
The electric scooter is extremely simple, so users shouldn't waste much energy on it.
On an adult electric scooter, you should use one of your legs to push yourself ahead for a while.
To bring yourself to the front position, grab the handles, place one of your legs on top of the deck, and then use the other leg to pull yourself forward.
Put your other foot on the scooter's platform once you feel positive, and then hit the gas pedal button.
You can use your posture, balance, and the handlebar to drive an electric scooter correctly. 
To quickly spin your electric scooter, use postural stability. This is considerably safer.
Electric single-wheel scooter vs electric Scooter (Comparison)
Here are a few more comparisons between Onewheel scooters and electric scooters:
1. Adaptability
Compared to typical e-scooters, single-wheel scooters require more focus while riding. The fact that it only shows one wheel means that kids will have trouble changing it.
It's interesting to note that even regular e-scooters work harder when compared to electric scooters, scooters, mopeds, and other electric vehicles.
Kick scooters are slightly easier to ride than electric scooters, so if you were to compare the two, you could choose Electric kick scooters.
2. Highest Speed
E-scooters typically move at a speed of 25 kilometers per hour or 16-30 miles per hour. One wheel typically go between 12 and 19 mph. When compared to standard speeds, the Onewheel has a modest advantage.
Some folding electric scooters of generally great quality may travel at speeds of up to 30 mph or even higher. Consider a close look at the fastest speed before making a purchase.
3. Safety Concerns
Due to the extended assumption that data will be retained organically in its layout, Onewheel will be less safe to ride than a conventional e-scooter.
4. Maintainance
Maintaining an electric scooter is much easier and more affordable than maintaining a onewheel because the spare parts and tools are more easily available for an e-scooter than for a onewheel.
Onewheels can, without much of a challenge, initiate a risky dive, assuming you move too quickly.
We anticipate that you will be using a onewheel or an electric scooter. Therefore, you should dress protectively. Put on your knee, arm, and hand pads, as well as your safety gear.
4. Balance Maintainance
Electric scooters are easier to switch out than onewheels. Keeping your offset with Onewheel is much more important than it is with an electric scooter.
We are accustomed to having control of situations while we drive or ride in a car. Hence, the electric scooter is simpler to learn than Onewheel because it has handlebars.
Key Points
A common electric scooter has two or more wheels. However, the Onewheel has just one. This is the key difference between the two.
The Onewheel line of vehicles has a single-wheel configuration, which makes them more challenging to learn than a typical e-scooter.
The Onewheel is slightly less safe to ride due to the same single-wheel design decision.
The price difference between an Onewheel and an electric scooter is considerable. Onewheel is expensive compared to electric scooters.
Related Read:
Conclusion: Onewheel vs. Electric Scooter (2023)
Ultimately, choosing an electric scooter and an Onewheel depends on what you're looking for and how you want to use it. 
While comparing, an electric scooter is a perfect choice if you need something more flexible, safer & capable of being used for both commuting and enjoyment.
Whereas Onewheel is undoubtedly the coolest alternative if, however, you're seeking a more unusual riding experience and aren't very bothered with practical concerns. 
Nonetheless, you'll have a blast, whichever option you choose!
FAQs
Does within budget Onewheel give good results?
There are Onewheel scooters that deliver good results. All it takes is finding an Onewheel that has good specifications.
Is it good for kids to use an Onewheel?
Even though your kid finds an Onewheel fun to play with, their safety and learning curve are concerns that occur with kids.
What is an alternative to an Onewheel other than an electric scooter?
An electric skateboard is another better alternative to an Onewheel other than an electric scooter.
Which one is safer, an Onewheel or an electric scooter?
According to researchers, an electric scooter is much easier and safer to ride than an Onewheel.
Are onewheels dangerous?
Onewheels aren't more dangerous than electric scooters or skateboards. The CPSC has reported some accidents, but remember, risks exist in all board sports.