This post contains affiliate links, we'll earn compensation if you make a purchase using them at no additional cost to you 😊
Electric vs Gas dirt bike -which one will give you the ultimate thrill experience?
Both bikes have multiple differences, and many people may prefer electric dirt bikes over gas and vice versa, depending on their preferences.
Our team of experts tested both dirt bikes simultaneously based on their maintenance, Pros and Cons, key differences, and top dirt bikes in the market.
We'll just say that you can use gas dirt bikes if you prefer fast, cheaper, and messy dirt bikes. But if you prefer a calm and slow pace of riding, you can go for an electric dirt bike.
We have already made the point, but there are more to gas and electric dirt bike. In this article, we will explore various differences between each type and analyse which bike would be ideal for you!
So, without any further ado, let's get into the details, shall we?
Electric Vs Dirt Bike: A Brief Overview
The main thing that differentiates an electric dirt bike and a gas dirt bike is its mechanism and power train.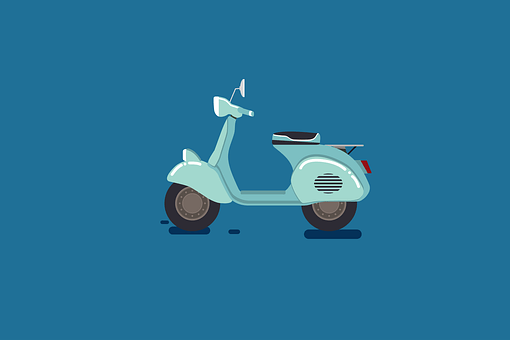 Electric bikes mostly run on lithium-ion batteries, which are lighter and best for a long-lasting charge. In comparison, gas dirt bikes get powered by a two or four-stroke engine.
However, many people prefer gas dirt bikes over electric ones because of their ease of use and ruggedness.
But rest assured, my fellow e-bike supporters. This scenario is changed recently because electric dirt bikes are becoming tougher and provide enough battery power.
You can see the other aspects which we take into consideration before buying a dirt bike below!
Maintainance
Electric Dirt Bikes
Electric dirt bikes are much less messy and low-maintenance.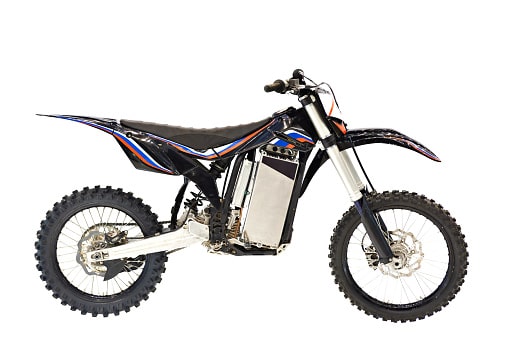 You may have to maintain their tires, nuts, bolts, and wires every now and then, but not regularly. It's pretty pocket-friendly to maintain even though it's expensive to buy.
Gas Dirt Bikes
Gas dirt bikes need to be maintained regularly. You must wash them regularly, keep an eye on their performance and change the oiling.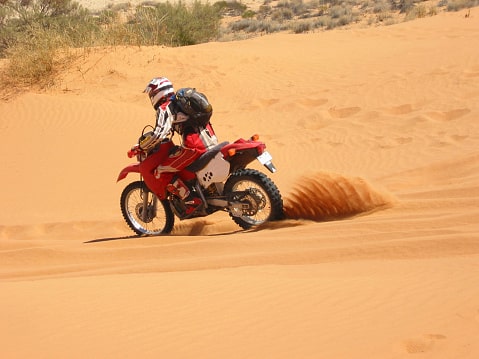 They are pretty high maintenance even though they are cheaper.
Pros And Cons
Electric Dirt Bikes
Pros-
Electric bikes are easy to operate.
They are a better option for beginners to ride.
Saves time and money.
Less messy than gasoline and doesn't produce emissions.
Makes lesser noise than a gas dirt bike.
Low maintenance after buying.
Sustainable and environmentally friendly.
Cons-
Time consuming while recharging.
Covers lesser mile range.
Expensive while buying.
Gas Dirt Bikes
Pros-
Cheaper to buy than electric dirt bikes.
Sounds like a regular motorcycle when turned on.
Time saver because it only needs gas to travel.
Faster and more powerful.
Covers more mile range than electric dirt bikes.
Cons-
Very noisy and loud (sometimes not acceptable by the neighbourhood)
Gasoline make fueling messy.
Not suitable for the city area.
Produces a lot of emissions.
Electric vs. Gas Dirt Bike: Differences
Okay, fellas, we're not gonna bore you by saying this one got an engine, and the other one got a battery! Pretty lame, right?
We'll directly get into some crucial differences and similarities.
| | | |
| --- | --- | --- |
| Parameters | Electric Bike | Gas Dirt Bike |
| Speed | Maximum speed of up to 30 mph+ | Maximum speed of up to 60-70 mph+ |
| Range | Short range distance coverage | Long range distance coverage |
| Noise | Quieter and soothing. | Noisier than electric bikes. |
| Ease of Use | User-friendly and easy to access. | Complex because of the vertical curve. |
| Weight Capacity | Lighter in weight | Also, lighter in weight |
| Pricing | Expensive while buying. | Cheaper to buy but expensive due to high-maintenance |
| Environmental Impact | Sustainable and Don't produce emissions | Too much emissions. |
Best Electric and Gas dirt Bikes in the market
We have listed our favourite electric and gas dirt bikes on the market, which you can check out below.
Best Electric Dirt Bikes
KTM Freeride E-XC
Top Speed: 50 Mph
Range: 11.5 miles
Torque: 42 Nm
Weight: 245 Lbs
Price: $11,099
Segway Dirt ebike X260
Top Speed: 46.6 Mph
Range: 74.6 miles
Torque: 220 Nm
Weight: 121 Lbs
Price: $6499.99
Zero FX ZF 7.2
Top Speed: 85 Mph
Range: 91 miles
Torque: 78 lb-ft.
Weight: 247 Lbs
Price: $11,995
Trevor DTRE Stella
Top Speed: 59 Mph
Range: 62 Miles
Torque: 260 Nm
Weight: 223 Lbs
Price: $13,064
E-Racer Rugged Mark2
Top Speed: 85 Mph
Range: 40 miles
Torque: 106Nm
Weight: 298 Lbs
Price: $16,250
Best Gas Dirt Bikes
MotoTec X5 250 cc
Motor: 250cc 4-stroke single cylinder Air Cooled
Weight: 232 pounds
Torque: 12.5 ft. lb
Price: $2399
Kawasaki KX65
Motor: 64cc Liquid-cooled 2-stroke engine
Weight: 132.2 Lbs
Torque: 9.7 Nm
Price: $3999
MotoTEC X4 150cc
Motor: 150CC 4-Stroke single cylinder air cooled
Weight: 231 Lbs
Torque: 7.37 ft. lb
Price: $2399
Honda crf110f
Motor: 110cm3 air cooled single cylinder 4-stroke
Weight: 163 Lbs
Torque: 6.5 ft. lb
Price: $1172.08
Yamaha tt-r110e
Motor: 110cc air-cooled SOHC 4 stroke;2 valves
Weight: 159 Lbs
Torque: 5.8 lb. ft
Price: $2299
Related read:
Final Verdict! Electric Vs Gas Dirt Bike (So, which is really better?)
It's time to conclude our detailed differentiation between electric dirt bikes and gas dirt bikes.
To sum it up, both dirt bikes have their specialities, advantages, and disadvantages, which make them unique in their own way.
But, if you ask us, we recommend gas dirt bikes for rough, rural, and speed-loving riders. Whereas Electric dirt bikes are for riders, who travel in the city and prefer a low-maintenance vehicle.
Now that we have analysed both dirt bikes closely, you can make the right choice.
But, If you have made your choice already, let us know which type of dirt bike you chose in the comment section below.
FAQs Electric Vs Gas Dirt Bike
Which type of dirt bike is better for beginners?
As per our experts, electric dirt bikes are a suitable option for beginners.
Which dirt bike is faster? Electric or gas-powered?
Gas dirt bikes are faster than electric dirt bikes as they are powered by gasoline with extra power.
What is the minimum age for riding a dirt bike?
There are smaller dirt bikes available in the market for kids. So there's no age limit for riding a dirt bike.
Which dirt bike brand do we recommend?
KTM motors are offering outstanding dirt bikes in the market, according to us. Although we can't declare that they are the best ones.