This post contains affiliate links, we'll earn compensation if you make a purchase using them at no additional cost to you 😊
Having the best long range electric scooters that offer a hassle-free experience is crucial. However, finding the one that offers long range and also fits your budget can be a challenge.
While exploring the same, I came across e-scooters from top brands like Apollo, Kaabo, Turboant, Gotrax, Hiboy and Voro Motors. In this article, I will review these top long range e-scooters, based on their budget, range, speed, battery, & more!
So, let's get into the details and help you decide the right e-scooters that will fit your requirements.
Top 9 Long-Range Electric Scooters For 2023: In A Nutshell
Here, We have created this table for you to evaluate these long-range scooters based on their ratings.
| | | | |
| --- | --- | --- | --- |
| Sr.No | Electric Scooter | Best For | Ratings |
| 1 | Apollo Ghost | Best in overall performance | 4/5 |
| 2 | Kaabo Wolf King GT Pro | Best for a commute | 4/5 |
| 3 | Kaabo Wolf Warrior 11 | Best in design & structure | 4.5/5 |
| 4 | Turboant V8 | Best in design & structure | 4.9/5 |
| 5 | Kaabo Mantis V2 | Best for smooth brakes & accelerator | 4/5 |
| 6 | GoTrax GMAX Ultra | Best for quick folding | 4.2/5 |
| 7 | Voro Motors' Emove Cruiser | Best for sleek rides through traffic | 5/5 |
| 8 | Apollo Phantom V2 | Best for innovation-based improvisation | 4.9/5 |
| 9 | Hiboy S2R | Best For portable & removable battery | 4.2l/5 |
1. Apollo Ghost (Best in overall performance)
The Apollo Ghost was awarded as the best long-range electric scooter and the fastest electric scooter in the year 2022. 
Apollo scooters have always been giving great performances, even their low-budget scooters. But this scooter comes under the mid-range cost category.
It is an upgrade of the ultimate game-changer electric scooter, 'The Ghost.' It is more challenging and substantial in many ways, such as its design, structure, mechanism, and remarkable features.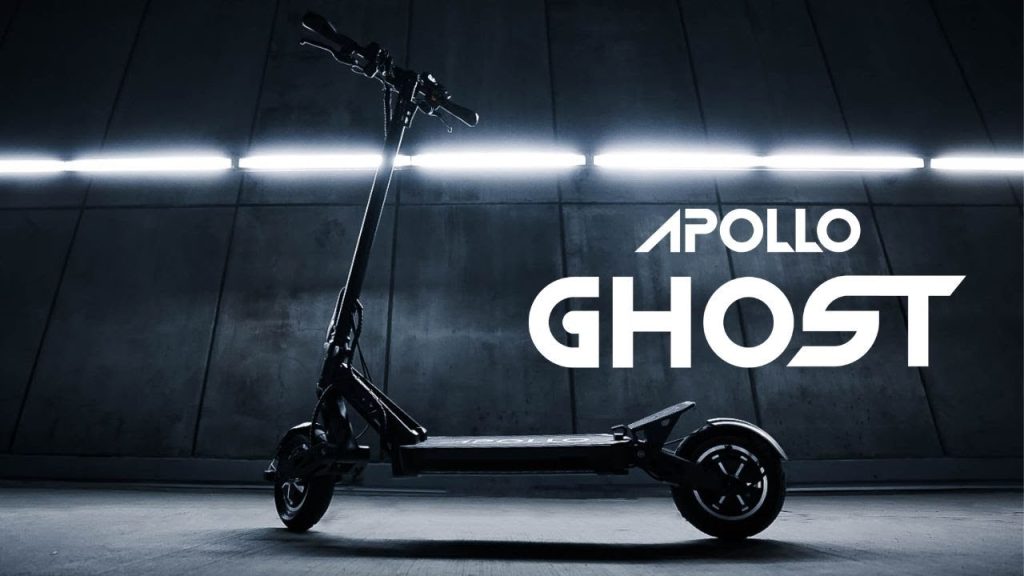 Tech Specs:
1000 W for dual motor power
34 mph limit of top speed
25 degrees capability of maximum incline.
Speed according to gear shifts-
Gear 1: 15 mph max. Speed/ Gear 2: 25 mph max. Speed/ Gear 3: 34 mph max. Speed
Type of battery used- 52V 18.2Ah
Travel distance capacity to 37 miles
Battery Structure specification – 98 x 18650 (2600 mAh) Lithium battery
Price:
For regular brakes – $1599
For Hydraulic Brakes – $1799
Ratings:
4 out of 5 Stars for the gear shifting option according to the speed.
2. Kaabo Wolf King GT Pro (Best for a faster commute)
Kaabo Wolf King GT Pro can commute longer distances, just like its long name. The fastest of them all.
You can ride at high speed with this e-scooter. It will always exceed your expectations. You can even reach your destination in less than the estimated time.
Built with a unique design and strong physique. It has an aesthetically pleasing monstrous structure.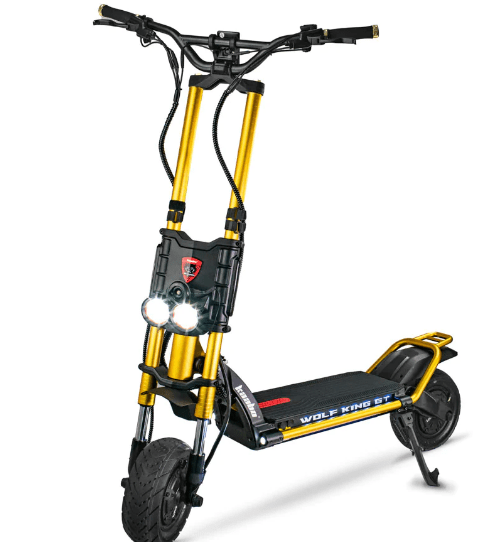 Tech Specs:
Dual motors of 2000W power and four plus kW peak power.
Battery specs include 72V 35Ah 2.52 kWh Li-ion battery.
Highest Speed limit up to 63 mph. ( 101 Km/h)
Maximum Range up to 74 Miles
Loading Capacity up to 330 IB (150 kg)
The brake system includes front and rear hydraulic disc brakes
3.5-inch tubeless tires.
Bright head, tail, and side lights along with turning signals
Comfortable Grip with thumb throttle
Price: $3795
Ratings:
4 out of 5 stars for providing many advanced features.
3. Kaabo Wolf Warrior 11 (Best in design and structure)
The Kaabo Wolf Warrior 11 combines a rugged and stylish scooter. This scooter has extraordinary features and power, making it one of the top-rated electric scooters. You can't help but notice its eye-catching design and structure.
Its drivetrain is derived explicitly from the GOAT of the electric scooter Dualtron Thunder. However, it's heavy and cannot be easily carried in another transport.
The suspension system in Wolf Warrior 11 is perfect for off-road commutes.
'Versatile' is the word to address the highly engineered Kaabo Wolf Warrior 11.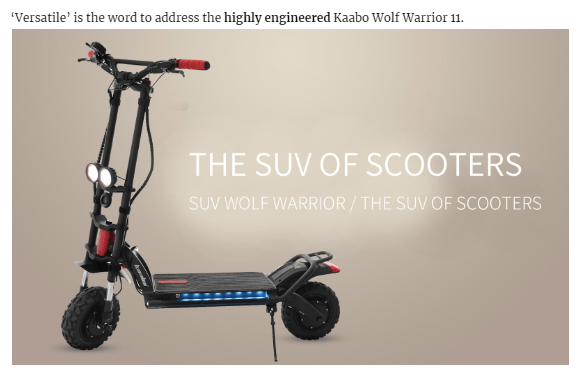 Tech Specs:
The highest speed limit is 50 mph
30.2 miles of the maximum range
Loading Capacity up to 330 lb
2400 watts of power
11-inch tires
Maximum incline up to 30 degrees.
Price: $2499
Ratings:
4.5 out of 5 stars for rugged performance and advanced engineered design.
4. Turboant V8 (Best for eminent features)
It is one of the best choices for an affordable commuter scooter. This model is a perfect option for beginners.
It comes with a bigger battery which was absent in the previous models of the same series. The Turboant V8 dual-battery e-scooter has a 450-watt motor sufficient for a long-range ride.
This commuter has a fascinating colossal loading capacity, brushless motors, and quick folding ability. It also comes with a rear suspension system. It's a complete package for a long-range commute.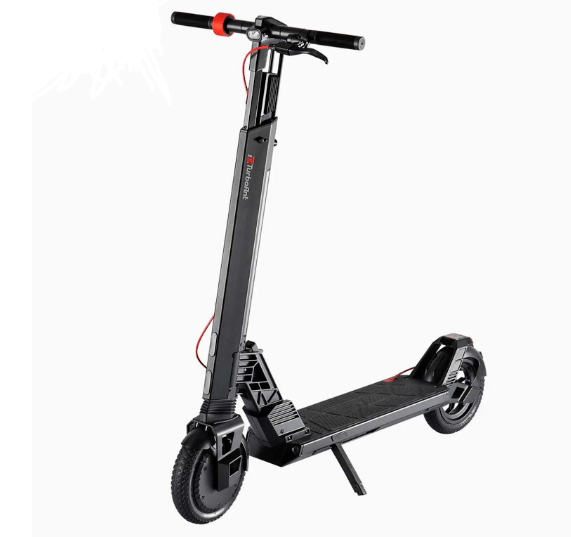 Tech Specs:
Dual Batteries of 2*7.5 Ah power
Climbing capability of up to 15 degrees
Rear suspension system
Maximum speed of up to 20 mph
The maximum range of 50 miles
Brushless motor of 450 watts
loading capacity of up to 275 lb
Quick folding in just 3-4 seconds
Price: $799.98
Ratings:
4.9 out of 5 stars for unbelievable loading capacity and dual battery.
5. Kaabo Mantis V2 ( Best for smooth brakes & accelerator)
The Kaabo Mantis V2 excels in acceleration and braking systems. Who doesn't like vehicles with faster, smoother acceleration and quick brakes?
The Kaabo Mantis V2 has made an outstanding improvement from its predecessors. It has many new features, including a water resistance rating of IPX5, Signal turn indicators, a Bright Headlight, rubber grips on accelerators, and a silicone deck.
The best feature of the Mantis V2 is the 'Sine Wave Controllers.' Mantis V2 might not be the fastest electric scooter, but it sure can take you on long-range distances.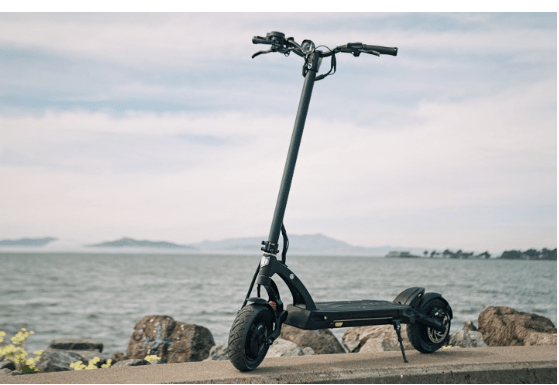 Tech Specs:
2000 Watts of motor power
Highest speed up to 40 mph
Loading capacity up to 270 lb
10.0-inch pneumatic tires
Water resistance ability of IPX5
Maximum range up to 33 miles
Price: $1799
Ratings:
4 out of 5 stars for extraordinary new & standard features in s-scooters.
6. GoTrax GMAX Ultra (Best for quick folding)
This e-scooter is made with a youthful touch to the display. This type of design display suits all age groups.
The GMAX Ultra goes up to 20 mph. It runs efficiently on hill slopes without putting much effort. The dual brakes are practical in quick stops.
It doesn't need more effort to carry around as it folds in less than 5 seconds. That's why portability is flexible with it.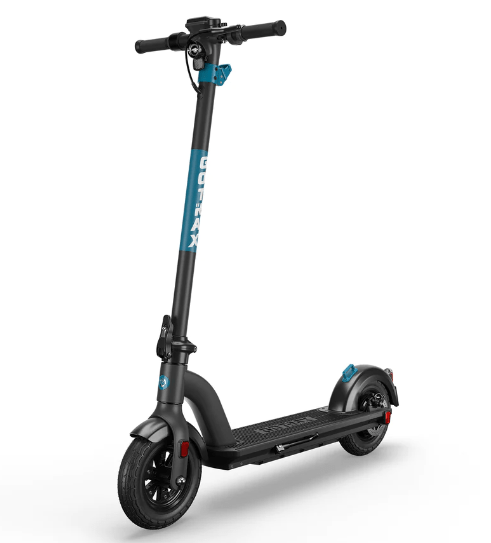 Tech Specs:
Maximum speed up to 20 mph.
Maximum range up to 45 miles.
Air-filled tires of 10 inches.
Motor power of 350 watts.
Charging time up to 4-5 hours.
Price: $849
Ratings:
4.2 out of 5 stars for the display, efficiency, and flexible portability.
7. Emove Cruiser (Best for a sleek ride through traffic)
Now comes the classic record holder as 'the longest range,' The universally acclaimed 'Emove Cruiser.' It has such a massive range of capabilities it will be worth your every penny.
The commuter's 10-inch tubeless pneumatic tire system can make the ride even more magical. This e-scooter has been a choice for many riders as it is sleek as a snake and helps you go through a busy road.
The best part is that it's suitable for longer and shorter ranges.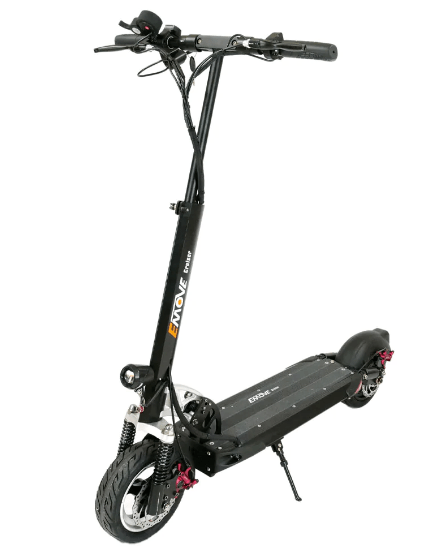 Tech Specs:
33 mph or 52.9 km/h of top speed
The maximum range of 62 miles
The brakes are made of XTAKE Hybrid Hydraulic with rotors of 140mm
Hill climbing capacity up to 20 degrees
maximum
Price: $1399
Ratings:
5 out of 5 stars for giving a complete package as an e-scooter.
8. Apollo Phantom V2 (Best for innovation-based improvisation)
The Apollo Phantom V2 was released in 2021 and became a perfect choice for many in a short period. Innovation-based advanced designing makes it stand out.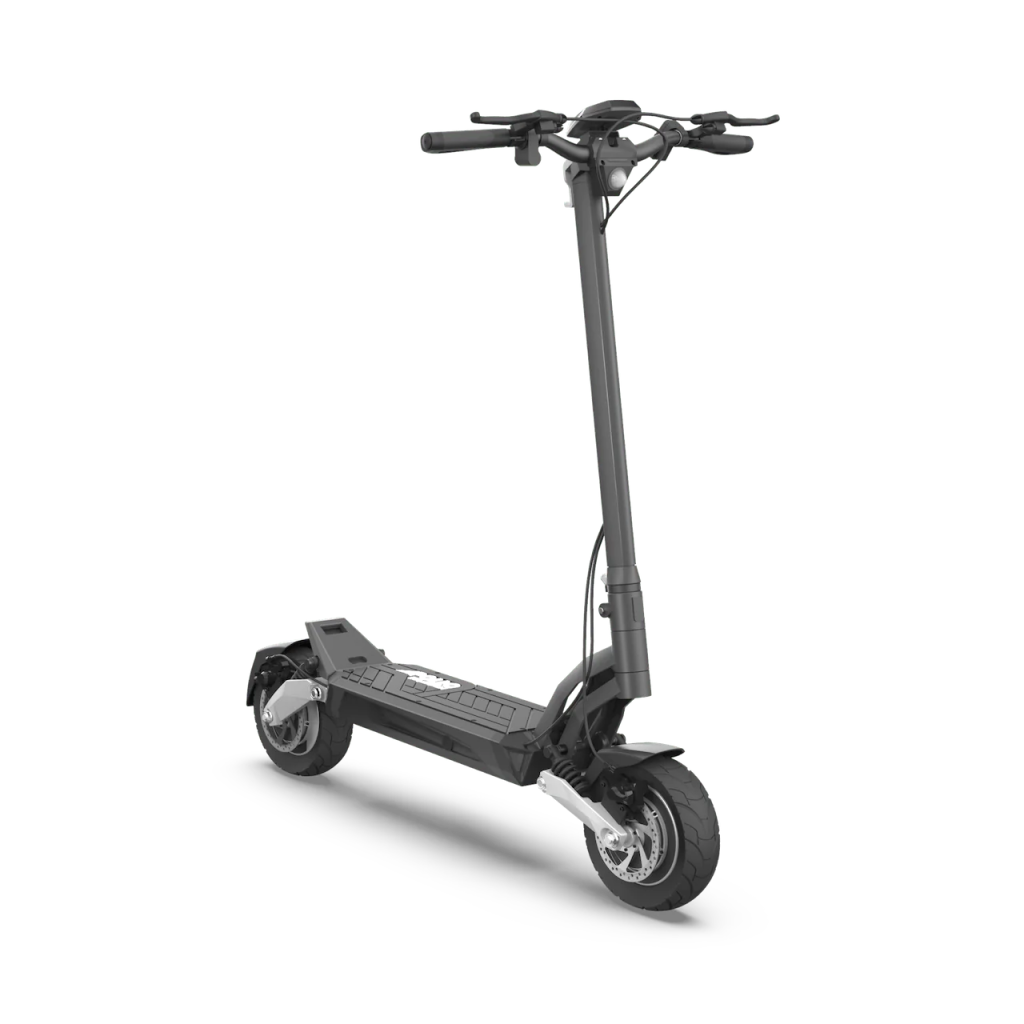 Its Magnificent features and mind-blowing ergonomics are just another example of a next-level experience.
It is built with massive power. So it carries heavy riders easily with the help of its more extensive deck and fantastic suspension.
Tech Specs:
Its battery voltage battery is 52V 23Ah
the highest speed is up to 62 kph
Maximum range power is up to 31.4 miles
The top speed tested by experts is up to 39.7 mph
Unique design with a top-rated display
Price: $3399
Ratings:
4.9 out of 5 stars for advanced design and immense comfort.
9. Hiboy S2R ( Best for portable & removable battery)
The S2R model is known for its easy removable battery system. This e-scooter performs well as its mile range and speed is sufficient for regular rides. It folds quickly in a few seconds. This e-scooter is budget-friendly.
The Hiboy S2R is known to take long-distance rides as a challenge to finish in less estimated time. It takes you on faster and smoother rides at long-range mileage.
Its well-built structure and smooth mechanism make it worth the money.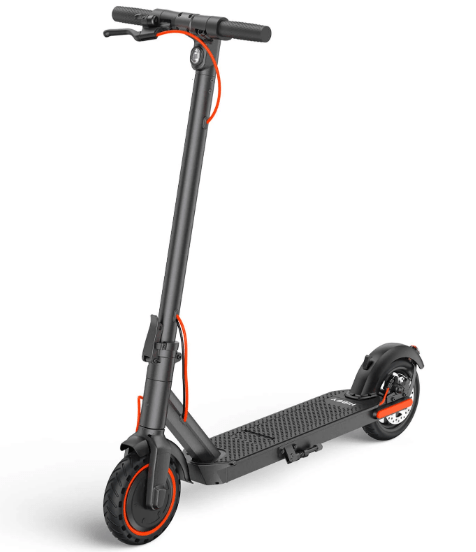 Tech Specs:
18.6 mph of the highest speed
The maximum range of 17 miles
Weighted up to 30.8 lbs
the lithium-ion battery power up to 36V 7.5 Ah
The maximum speed of up to 19 mph
350 watts of Motor power
Price: $469.99
Ratings:
4.2 out of 5 stars for long-lasting battery and budget-friendly price.
How To Choose The Right Long-Range Electric Scooter For You In 2023
Here are a few things that you have to remember before buying an electric scooter:
1. Range
When selecting an electric scooter, it is crucial to prioritize the range of the vehicle. You must decide how far you need to travel on a single charge.
2. Speed
Another important factor is the speed of the scooter. If you need to travel long distances quickly, you will need a scooter with a high top speed.
3. Weight
The weight of the scooter is also important to consider. For convenient portability, it is recommended to opt for a lightweight electric scooter when navigating stairs or utilizing public transportation.
4. Price
Electric scooters can range in price from a few hundred dollars to several thousand dollars. Prioritizing your financial plan is crucial before embarking on your electric scooter purchasing journey.
5. Features
Some electric scooters come with additional features, such as suspension, lights, and brakes. Consider which features are important to you before you make a purchase.
Related read:
Final Verdict! Best Long Range Electric Scooters (2023)
While wrapping up this article, we hope all of your queries and confusion have been resolved.
Commuters above were hopefully up to your standards, along with features like no regular electric scooter. They are time and distance-efficient, making them the ideal choice for people looking for an all-rounder commuter.
We would love to know your view on this article, and we would love it if you let us know about it in the comment section.
FAQs
Which electric scooter is the #1 choice for long-range?
'Emove Cruiser' is once again the winner of all hearts. This scooter is our #1 choice for a long-range electric scooter. 
Where can you buy electric scooters?
You can find these electric scooters on their official websites and on amazon.com to buy.
Which electric scooter is good in quality and affordable?
The Hiboy electric scooters are famous for their excellent quality electric scooters at low prices. So, you can go for the 'Hiboy S2R' electric scooter, which is cheaper than others in the long-range section.
Can you trust electric scooters for a long-distance commute?
You can trust an electric scooter to help you with long-distance commuting. If you are too cautious about it, you can always go for a dual battery and maximum long-range electric scooter from the list given above.